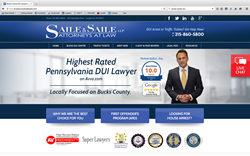 Our newly designed website is user friendly, provides a wealth of information, and best of all its completely focused on helping people charged with DUI in Bucks County.
Doylestown, PA (PRWEB) July 28, 2015
Bucks County DUI attorney, Michael L. Saile, Jr., of Saile & Saile LLP announces a new website resource for people who have been arrested and charged with DUI. Recognizing that thousands of people are charged with DUI every year, Mr. Saile seeks to help those who are concerned about what a DUI will mean to themselves, their loved ones, their employment, and their ability to drive legally in the future.
The newly redesigned website is intended to help those charged with DUI better understand how the law may affect the outcome of their case. For many people, a first DUI arrest in Bucks County is also the first time there has been the prospect of prison in their future, and they may be scared or embarrassed and remorseful.
The site allows anyone access to a library of information and videos about the ins and outs of a DUI arrest that answer many of the questions that someone might have when faced with the prospect of prison, fines, job loss, and license restrictions. The new resource provides valuable information (such as whether ARD is a possibility) in a way that can help an individual better understand what to expect. The site includes free access to a guide authored by Mr. Saile, who is both knowledgeable and experienced in the nuances of DUI defense law.
Michael L. Saile, Jr., Esq. writes, "It is our goal to ensure personal attention to every client. I work diligently to provide sound legal guidance during what is typically a confusing and stressful time."
Licensed for over 12 years, Mr. Saile is a nationally recognized Pennsylvania personal injury law and DUI defense attorney practicing in Pennsylvania and New Jersey. He has been named to the following lists and/or designated:
A-V Preeminent® Rated by Martindale Hubbell for Highest Level of Professional Excellence
"Rising Star" by SuperLawyers.com
10.0/10.0 "Superb" Rating – Avvo.com for Experience, Industry Recognition, and Professional Conduct
"Top 40 Under 40" attorney by the National Trial Lawyers Association (NTLA)
"Top 40 Under 40 Business and Community Leaders" by the Bucks County Courier Times/Calkins Media
"Top 10 Under 40 Pennsylvania Personal Injury Lawyers" by the National Academy of Personal Injury Attorneys (NAOPIA)
"10 Best Under 40 Pennsylvania Personal Injury Lawyers" by American Institute of Personal Injury Attorneys (AIOPIA)
"10 Best Pennsylvania DUI Lawyers" by the American Institute of DUI Attorneys (AIDUIA)
"Top 40 Under 40 Criminal Defense Lawyers" in Pennsylvania by the American Society of Legal Advocates (ASLA)
"Top 100 Pennsylvania DUI Attorneys" by the National Advocacy for DUI Defense Attorneys (NADD)
"10 Best Under 40 Pennsylvania Criminal Law Attorneys" by the American Institute of Criminal Law Attorneys (AICOLA)
"Bucks County's Most Happening Lawyer – 2012" by the Happening List
Mr. Saile's legal expertise has been spotlighted on the Consumer's Advocate TV Show which has been featured on NBC, ABC, CBS and FOX affiliates across the Country.
Saile, an Eagle Scout, also gives back to his community and holds a position on the Board of Directors of the non-profit, TODAY, Inc., a community drug and alcohol rehabilitation alternative to incarceration.