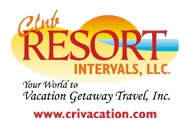 Manchester, NH (PRWEB) January 27, 2015
2015 has just begun and Club Resort Intervals knows that a new year means that travelers are already beginning to plan their upcoming getaways to destinations all over the world. Picking a dream destination can be an unforgettable experience, but for those who are planning on traveling abroad, Club Resort Intervals knows that there will be some extra things to keep in mind first. To make the process simple, easy, and thrilling, the luxury vacation provider offers some tips for preparing for a trip abroad.
1. Plan early and buy now: In popular destinations, well-known attractions can become very busy. For travelers who want to see these popular attractions and sites, it is important that they start researching early and plan ahead. Doing some research may show them the best day to see these attractions with minimal crowds. They should also buy tickets early to ensure that they can have access to these events and attractions and do not have to stand in lines when they arrive.
2. Money matters: When traveling to a destination abroad, it is important that travelers make sure that they have money available. Look up conversion rates early and be aware of how the money converts so there are no surprises upon arrival. Use banks to get the converted cash rather than places in the airport which may be less secure. Also, Club Resort Intervals reminds travelers that it is important they make sure their credit cards will work in whatever country they are visiting.
3. Paperwork: Always be sure that all paperwork is taken care of well in advance and put it in a safe place before the trip so that it is not forgotten. Club Resort Intervals reminds travelers that some matters, such as when a passport must be acquired, are time sensitive and should be kept in mind. Also, some countries require other paperwork like immunization records for pets that may be coming along on the trip. Travelers should do early research to ensure that they are prepared with the correct documents.
Visiting a new country can be a great way to make 2015 extraordinary. With these tips from Club Resort Intervals, it can be easier than ever to plan a trip that is unique and unforgettable. For more information on planning a stunning vacations this year to destinations all over the world, visit https://www.crivacation.com/.
###
Club Resort Intervals
(800) 274-3979
service(at)crivacation(dot)com