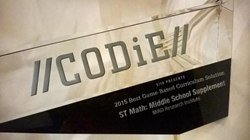 SIIA's 2015 Education CODiE Award winners are some of the most innovative, high-impact education products out there.
Irvine, Calif. (PRWEB) May 06, 2015
MIND Research Institute's ST Math: Middle School Supplement was announced yesterday as winner of the 2015 Software and Information Industry Association Education CODiE Award in the Best Game-based Curriculum Solution category. The SIIA CODiE Awards ceremony was held during a reception and dinner at SIIA's annual Education Information Summit, at The Palace Hotel in San Francisco. Overall, 28 awards were given for products and services deployed specifically for the education technology market.
Launched in 2014, ST Math: Middle School Supplement builds on ST Math's successful preschool through fifth-grade curricula. The middle school supplement creates a foundation for success in Algebra 1 by remediating students on concepts from previous grade levels and by building students' conceptual understanding of select on-grade level math concepts from 6th, 7th and 8th grade mathematics. The software is designed to connect interactive visual models to abstract concepts and language components for each math topic. The built-in diagnostic tool personalizes the learning path for students and gives each student the intervention content that he or she needs. Individualized student reports provide teachers with diagnostic results and real-time content mastery for each student.
The impact of the ST Math curricula from kindergarten through fifth grade on student math achievement has been proven in numerous analyses over the years, most recently in a study of 19,980 students by the independent education research firm WestEd. Schools using ST Math consistently experience double to almost triple the growth in percentage of students testing proficient or better on state standardized math tests, when compared to similar schools not using the program.
"MIND's ST Math: Middle School Supplement is a critical component of achieving our mission of ensuring every child is mathematically equipped to solve the world's most challenging problems," said Matthew Peterson, Ph.D., creator of ST Math and co-founder and CEO of MIND. "It's an honor to have an organization like SIIA recognize excellence in our newest ST Math program, and to make more people aware of the unique kind of work we do every day to advance math education across the country."
ST Math has won a number of industry awards, including the STEM Innovation Award from the Silicon Valley Education Foundation (2012), the eSchool Media Readers Choice Award (2012), District Administration's "Top 100 Products" (2014, 2012, 2011, 2010) and the CODiE Award for Best Instructional Solution (2008).
MIND Research's suite of educational programs is available for school adoption, and as a social benefit non-profit organization, MIND works with donors and schools to help philanthropically fund the program in schools.
"SIIA's 2015 Education CODiE Award winners are some of the most innovative, high-impact education products out there," said Karen Billings, vice president and managing director of the ETIN-SIIA. "We congratulate all of this year's CODiE Award winners, and thank them for the contributions they have made to the education industry."
About SIIA
SIIA is the leading association representing the software and digital content industries. SIIA represents approximately 800 member companies worldwide that develop software and digital information content. SIIA provides global services in government relations, business development, corporate education and intellectual property protection to the leading companies that are setting the pace for the digital age. For more information, visit http://www.siia.net. The Education Technology Industry Network (ETIN) of SIIA serves and represents more than 200 member companies that provide educational software applications, digital content, online learning services and related technologies across the K-20 sector. The Division shapes and supports the industry by providing leadership, advocacy, business development opportunities and critical market information. For more information on ETIN of SIIA, visit siia.net/etin.
About MIND Research Institute
MIND Research Institute is a neuroscience and education social benefit organization, dedicated to ensuring that all students are mathematically equipped to solve the world's most challenging problems. MIND's distinctive visual approach to math and problem-solving is the basis of its innovative, research-proven ST Math® programs for elementary and secondary schools. The visually-based ST Math program has been shown to double or triple schools' growth rates in math proficiency. MIND's programs currently reach 800,000 students and 31,000 teachers in 2,500 schools in 40 states. For more information, visit http://www.mindresearch.org.