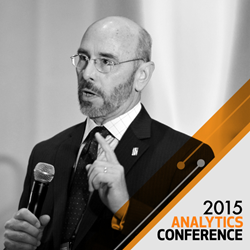 (PRWEB) May 20, 2015
Benjamin Mangold, Director of Digital and Analytics, said, "We're really excited to welcome Jim – also known as the 'Godfather' of web analytics – to Australia and can't wait to see what he has in store. Jim joins an alumni of key international industry speakers for the Analytics Conference, including Avinash Kaushik and Justin Cutroni."
Jim Sterne, based in Santa Barbara, USA, is an internationally known consultant and speaker on digital marketing and customer interaction. As the Founding President and current Chairman of the Digital Analytics Association, Sterne has built a career on growing the digital analytics industry and in 2015, he brings this expertise to Australia. A consultant to Fortune 500 companies, Sterne has 20 years experience in digital analytics and online marketing measurement, and has also published eight books on internet advertising, marketing, and customer service.
Sterne's keynote for the 2015 Analytics Conference will focus on the opportunity for professionals in digital analytics. Looking at the concept of 'big data', Sterne will outline what it takes to become a great marketing analyst; and how to make sure that digital analytics becomes indispensable to your organisation.
About the 2015 Analytics Conference
Back after a sell out event in 2014, the 2015 Analytics Conference is the only event of its kind in Australia. The annual Google Analytics user conference is presented by Loves Data in Sydney and Melbourne, with tickets starting from $575.
Sydney
Tuesday, 8 September (Masterclass)
Wednesday, 9 September (Conference)
Australian National Maritime Museum
Melbourne
Thursday, 10 September (Masterclass)
Friday, 11 September (Conference)
Melbourne Convention and Exhibition Centre
Full program and speakers to be announced soon. Book tickets at lovesdata.com/conference.