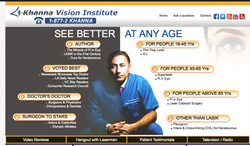 Approval for Corneal Collagen Cross Linking for keratoconus is a step in the right direction.
Beverly Hills, CA (PRWEB) February 28, 2015
Khanna Vision announced it is pleased that US FDA Dermatologic and Ophthalmic Drugs Advisory Committee and Ophthalmic Devices Panel of the Medical Devices Advisory Committee voted in favor of approval of Avedro's new drug application for riboflavin ophthalmic solutions with UVA irradiation for use in corneal collagen cross linking. Avedro is a Boston, MA based privately held company. It is engaged in developing new technology for treatment of Keratoconus.
Rajesh Khanna, MD medical director of Khanna vision institute is a corneal surgeon in Beverly Hills. His emphasis has been on the early diagnosis and management of people suffering from this progressive degenerative disease of the cornea. In the last decade he has helped many keratoconus patients with FDA approved Intacs ring segments. These segments manufactured by addition technology change the shape of the cornea. Optical improvement follows and allows the person to avoid hard contact lenses.
In young teenage years when the disease is rampant the best treatment has been found to be cross linking the cornea. This process mimics normal ageing process. Therefore the best effect is seen in teen-age years. Corneal cross linkage is considered the standard of care, for treatment of teens and youths suffering from keratoconus. Dr. Khanna said "It has been frustrating to not be able to offer the standard of care to all". At present the treatment is offered as part of IRB protocols or ongoing FDA studies. Medical insurances do not cover these essential treatments. This has prevented a lot of deserving patients from obtaining the best treatment for their eye
About Khanna Vision Institute
Khanna Vision Institute is a Beverly Hills based vision correction practice. It is a pioneer in age based refractive surgery. Dr. Khanna has performed thousands of vision correction procedures including on his own mom and son. Doctors and celebrities alike have trusted him with their eyes. He has been trained in corneal surgery at University of Cincinnati. He is author of the well-reviewed book Miracle of pi in eye. He is also the host of "Medical Magic" and "Hangout with Laserman".