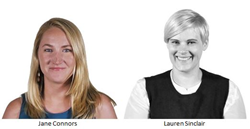 Lauren Sinclair and Jane Connors joining our team illustrates the strength in our new direction toward servicing larger brand and advocacy clients - Craft Founder and CEO Brian Donahue
Washington D.C. (PRWEB) August 31, 2015
Integrated advertising and public-relations agency CRAFT Media/Digital has added two key members to its staff, Founder and CEO Brian Donahue announced today.
Lauren Sinclair joins CRAFT as account director from FleishmanHillard Chicago. Her background in healthcare and corporate public affairs will help lead CRAFT's digital, social and branding accounts.
Jane Connors, a former client strategist at Engage and an online strategist with Ketchum, joins the firm as digital account manager to provide campaign, social and digital strategy management for association and corporate clients.
According to Brian Donahue, "Lauren Sinclair and Jane Connors joining our team illustrates the strength in our new direction toward servicing larger brand and advocacy clients. We are excited to bolster our talent ranks with new team members who bring large-agency experience to our cutting-edge agency approach."
About CRAFT
Founded in Washington D.C. in 2010, CRAFT is a fully integrated advertising and PR agency, leading in the digital and media space with services including digital advertising and development, social media management, creative media, video production, audience targeting, story placement, blogger outreach and email marketing. Clients include Walmart, Mitsubishi Heavy Industries, the U.S. Chamber of Commerce, the National Restaurant Association, the International Franchise Association and Balance Gym, to name a few.