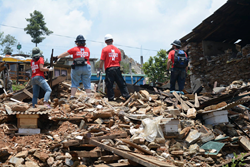 Our teams are on the ground and have made it to the storms epicenter, helping with supplies, prayer and clean water," said Sean Malone, Director of Crisis Response International.
Nasville, TN (PRWEB) May 30, 2015
The death toll in Nepal has reached over 8,000 people, with another 19,000 injured. Nearly 2.8 million people are left homeless and an early monsoon season means the possibility of mudslides are almost inevitable. Online news website, Quartz, has reported that the damage in Nepal is nearly half of the nation's GDP.
"Our teams are on the ground and have made it to the storms epicenter, helping with shelter, supplies, prayer and clean water," said Sean Malone, Director of Crisis Response International (CRí])
CRí is a Christian disaster response ministry out of Nashville, TN and is committed to long term sustainable relief and rebuilding efforts.
"Our first priority is basic needs for the people who are stranded with no one or no where to go," explained Malone.
Malone explained this full scale deployment will be a long term relief effort for the ministry. CRí is sending additional "waves" of responders June 2nd, June 10th, and June 17th, respectively. CRí offers certified disaster response trainings across the United States and is calling on their network to stay informed and involved in this crisis.
"In the western Church we do a lot of talking and debating about church models, ministry and theology, but when disaster and crisis happens, the rubber meets the road for our faith. Are we willing to be the answer to our own prayers and allow the Lord to work in us and through us to bring hope and help to the nations?," said Malone.
CRí offers certified disaster response training with a network of over 3,500 trained responders around the world and has invited those who are trained with the 501(c)(3) organization to deploy and those who aren't to get trained.
"Right now we are calling on our friends in the states to partner with us in bringing fresh water and supplies. Monsoon season is imminent, so the most urgent need is for family sized tents. We also need to purchase blankets, baby diapers, cooking oil, and solar powered lights," explained Malone.
Donations to the ministry can be made on CRí's website. Additionally, those interested in disaster response certification through the ministry can attend an upcoming training in South Dakota, California or Virginia. More details on training dates and times can be found on their website at http://criout.com/event/.
For CRí this is an opportunity to bring the love of God to nations in need, it's putting their faith into action and it's going where the light is needed most, in the dark.
About CRí:
Crisis Response International (CRí) is a 501 (c) (3) non-profit organization that resources, trains and mobilizes volunteers, churches and other organizations to respond to disasters and compassion initiatives around the world.
CRí provides a model and framework for responding to disaster situations and delivering resources to areas that would otherwise be off-limits to volunteers. Our procedures and training avoid what the government calls "the second disaster," referring to the chaos that often ensues when spontaneous resources and untrained volunteers arrive on scene.
CRí is a disaster relief organization that designed to integrate with local, state, and federal response efforts. This is possible because of our relationships with community, state, and federal level volunteer organizations that are actively involved in disaster relief.
CRí manages operations, resources and personnel to carry out various tasks and services that assist victims of disaster and crisis. Operations vary upon the size and scope of the disaster, but ultimately the goal is to see hearts turn to Christ through demonstrations of God's mercy and love.