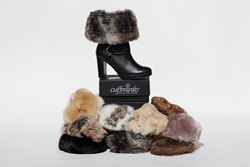 "We were inspired to design cuffminks to create a simple, yet elegant way for a boot lover's personality to shine through," stated Priscilla Lenzuolo, co-founder of SterlingRoseBuds, LLC. "We cannot wait to see them on boots everywhere this fall."
Framingham, Mass. (PRWEB) October 21, 2015
SterlingRoseBuds, LLC today announced the debut of cuffminks™, the company's faux fur fashion accessory line for boots. The new luxurious boot cuffs are a unique, simple way to customize the latest fall and winter boot fashions.
"We were inspired to design cuffminks to create a simple, yet elegant way for a boot lover's personality to shine through," stated Priscilla Lenzuolo, co-founder of SterlingRoseBuds, LLC. "We cannot wait to see them on boots everywhere this fall."
Available in a variety of stunning faux fur styles, cuffminks™ are the perfect accessory for fashion aficionados to personalize and adorn their favorite boots with beautiful, plush faux fur. Designed by SterlingRoseBuds, LLC co-founders Priscilla Lenzuolo and Pattye Grant, the new cuffminks line currently features a wide selection of premium faux furs in neutral and earth tone colors. Cuffminks collections will vary from season to season as the designers seek out the latest trends and colors of faux fur. They range in price from $49.99 to $59.99.
"We pride ourselves in manufacturing cuffminks using only the highest-quality hand selected faux furs available," added Pattye Grant, co-founder of SterlingRoseBuds, LLC. "Our cuffminks will transform any boot from the ordinary to the extraordinary."
Cuffminks can be purchased online and will be coming soon to select boutiques. To learn more about and shop for cuffminks, visit http://www.sterlingrosebuds.com. If you are interested in carrying cuffminks in your retail location, email wholesale(at)sterlingrosebuds(dot)com.
Follow SterlingRoseBuds, LLC online via Facebook, Twitter (https://twitter.com/Cuffminks) and Instagram (https://instagram.com/cuffminks).
About SterlingRoseBuds, LLC
The creative, entrepreneurial spirit of co-founders Priscilla Lenzuolo and Pattye Grant is rooted in their childhood, which was spent together designing and hand making costumes for neighborhood talent shows. Today, Priscilla and Pattye are focused on cultivating their creative passions as owners of SterlingRoseBuds, LLC and designers of
cuffminks™, a faux fur line of boot accessories manufactured in the United States.