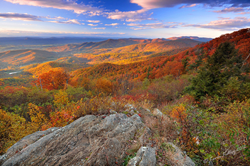 Oh Shenandoah!
Winchester, Virginia (PRWEB) October 30, 2015
The Shenandoah Valley is known for many things from the battles of the Civil War to the legendary Patsy Cline and the infamous 89th Apple Blossom Festival to the beautiful luxury resorts and timeshares, but what is a surprise are the culinary experiences a foodie can have here in Virginia's Shenandoah Valley. Many questioned where does it begin and end. How about starting in West Virginia and ending at Natural Bridge outside of Lexington, Virginia.
Go Blue Ridge Travel would like to highlight ten plus best culinary secrets. What is real buttermilk? At Mt Crawford Creamery in Harrisonburg, Virginia, one can experience cows being milked and even feed a calf and fill the unbelievable strength of the pull from the hungry calf. Mt Crawford Creamery's milk let's you know how much we are missing when we go to the grocery store and purchase homogenized milk. It is like eating a green pepper or cucumber from the garden. There is no comparison.
When one is thinking of a Chinese Restaurant experience, one does not think of the Shenandoah Valley but Ming Chang, owner of Chinatown Winchester is the gathering spot for locals. Their tradition noodle soup with fresh greens, shrimp, chicken, and tofu makes one want to close their eyes and just savor the flavor. Another great secret in Winchester is Chop Sticks. A small off the path restaurant is a great venue for lunch with healthy traditional green salad and a choice of sushi. Nancy Craun, owner of Go Blue Ridge Travel, suggests the Shrimp Tempura Roll if one wants to step out of the box.
Looking for a mountain break, then head for Massanutten Resort. The Fareways Restaurant definitely has the best Virginia Mint Julep in the state. Having redone their menu to focus on local resourcing and Virginia favorites, it is a real surprise to both the international and local visitors.
"Having just visited Williamsburg, I have not found spoon bread but Fried Chicken is all about the Shenandoah Valley," said Nancy Craun. So where is the best? Go to the locals and Throx Market Station is number one. Sort of a conflict of values since the convenience store represents the new age healthy convenience store, where does the fried chicken fit in. One cannot ignore history and Throx fried chicken has been around for years at their Throx Country Store. Nancy Craun saids, "I have no idea how they do it and have not wanted to ask. It is more fun to just savor the juiciness and flavor."
Gelato anyone. Another hidden secret is the new Gelato ice cream store in Old Town Winchester. Hard to find, one has to go behind the old Taylor hotel to Indian Alley, to find a small getaway food spot. "What is embarrassing is that I cannot find the name. I have been told that Joe's Steakhouse owns it." said Nancy Craun.
If you are a foodie, then finding where the locals are going is one's goal. In Shepherdstown, West Virginia there are two favorite spots. The Press Room offers northern Italian cuisine. Small and intimate, reservations are a must. A totally different cuisine experience is Mellow Moods. Healthy is the word with a fantastic juice bar. Perhaps the biggest surprise is Maria's Taqueria. It is the fresh produce that makes all the difference. Try the fish or beef tacos.
Into horse country, then Hunters Head Tavern let's one sit with real horse people. Try the Chicken Pot Pie or the Shepherds Pie with a great glass of wine from a local vineyard. What makes this cuisine experience is the locales who frequent the restaurant.
Totally at the other end of the valley is Southern Inn in Lexington, Virginia. Pimento Cheese is returning to the food scene but in a new American Cuisine twist with Skillet Cornbread with Red Pepper Jelly. A real surprise in a very small southern town, it is worth the drive to stay at the Natural Bridge dated hotel and drive into the small southern town of Lexington. "As my dear neighbor, Dabney Chapman who just passed away described himself, 'I am a true son of the Shenandoah Valley, having spent his childhood and youth in Rockbridge County,'" said Nancy Craun. "Part of your foodie experience here in the valley is that you are in the Shenandoah Valley."
A highlight of coming to the valley is to enjoy the food and the people while having a cultural heritage experience. In today's world, this is very important since today's world is becoming smaller and smaller. Stand in the room where George Washington stood as a young surveyor, experience a parade where Patsy Cline was the grand marshal, climb a fire tower in the George Washington National Forest to show one the seven bends of the Shenandoah River or hike the Appalachian Trail to Bears Den and gaze across a valley with centuries of American history. Then retire to one of the valley's many local restaurants enjoying a Virginia wine or brew, and savor the lifestyle of the Shenandoah Valley.
About GoBlueRidgeTravel.com
Launched in December 2011, Go Blue Ridge Travel (GoBRT) is an e-commerce marketing company using digital internet channels to both create a travel ecosystem community. Founded and owned by Nancy Craun who grew up in the area and has 30 years of experience in the event planning, restaurant, hotel, and marketing arenas. GoBRT covers 160 plus mile radius of the Interstate 81 Corridor spanning the states of Virginia, West Virginia, and Maryland. In 2014, the Kids Trail was launched with grants from Virginia Tourism and now has over sixty partners with a mission to showcase multi-generational travel in the Blue Ridge Mountains and Shenandoah Valley.
Contact: Nancy Craun Founder and President GoBlueRidgeTravel.com and ShenandoahValleyKidsTrail.com Phone: 540.533.1853 Email: info(at)GoBlueRidgeTravel(dot)com