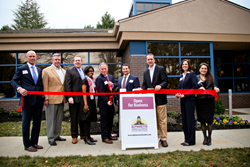 On January 14th, substance abuse professionals from along the East Coast, Alpharetta leaders, and local community members joined hands to welcome Sunrise Detox's newest flagship drug and alcohol detox facility to Alpharetta, Georgia.
ALPHARETTA, GA (PRWEB) January 22, 2015
In light of the current drug and alcohol dependency epidemic hitting communities across our nation, Sunrise Detox, an experienced industry-leader in drug and alcohol detox, opened the doors of its newest detox center in Alpharetta, Georgia on Wednesday, January 14th.
To welcome Sunrise Detox to the Alpharetta community, substance abuse professionals from New York to Southern Florida gathered at the Georgia facility to support their joint commitment to combating addiction. At the ribbon cutting, Alpharetta's Mayor David Belle Isle commented that although he wished "Sunrise Detox's services were not needed [in Alpharetta], …unfortunately they [are]."
Alpharetta, an affluent suburb of Atlanta located in Georgia's northern Fulton County, stands as just one of the many communities across Georgia and the United States plagued by the menacing wave of drug and alcohol dependency.
John Moriarty, director of marketing at Sunrise Detox, informed the crowd of nearly 300 in attendance that Sunrise has detoxed almost 45,000 individuals from a variety of physically-addictive substances over the past 10 years and remains dedicated to saving as many lives as possible from the devastation of drug and alcohol addiction. On behalf of Sunrise, Moriarty confirmed a $2,000 pledge to North Fulton Charities to further assist the local community.
At Sunrise Detox's open house, industry professionals— counselors, rehabilitation professionals, and social workers— joined leaders and members of the Alpharetta community at the ribbon cutting ceremony, meet-and-greet, catered luncheon, and tour of Sunrise Detox's newest location, which joins four other Sunrise Detox facilities in NJ and FL.
Rock 'n Roll Hall of Fame inductee Ricky Byrd, formerly of Joan Jett and the Blackhearts, also participated in the excitement of the day, proudly celebrating with the crowd his own 28 years of sobriety from drugs and alcohol. Byrd also shared how he believes in taking one day at a time and that everyone can have a positive impact on those afflicted with substance abuse addiction.
In response to the National Institute on Drug Abuse's 2014 Monitoring the Future survey released on December 16th, 2014, National Drug Policy Acting Director Michael Botticelli stated, "This year's Monitoring the Future data show promising signs on the declining rates of adolescent substance use and reinforce the need to continue efforts on preventions, treatment, and recovery" (http://www.drugabuse.gov/related-topics/trends-statistics/monitoring-future). Detox programs, such as those provided by industry-leader Sunrise Detox, are a vital segue into treatment and recovery efforts.
Sunrise Detox, a free-standing medical drug and alcohol detoxification facility located at 4500 North Point Parkway in Alpharetta, GA, is Sunrise's newest flagship location.
For a gallery of photos from the day's celebration, visit our open house page.
If someone you know suffers from drug or alcohol addiction, please call a Sunrise Detox admission specialist at 888-44-DETOX today. For additional information, visit Sunrise Detox Centers online at http://sunrisedetoxatlanta.com.