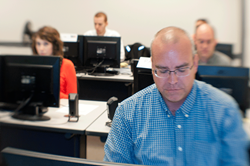 It's not easy and it takes a lot of work but we have a 100% employment rate for our graduates - and they and their employers are all smiles. And that's what it's all about!
Cincinnati, Ohio (PRWEB) August 14, 2015
Cincinnati Mayor John Cranley announced last week that Cincinnati will be part of the second cohort of TechHire Communities and that MAX Technical Training will be one of several collaborative partners in the initiative. TechHire is a White House Initiative and call to action to empower people with the skills they need to transition into well-paying, in-demand tech jobs. The ultimate goal for Cincinnati will be to build the city's Information Technology talent pool by educating and ultimately recruiting more women and underrepresented minorities into the booming IT field. Other partners named to the TechHire Cincy Initiative include Partners for a Competitive Workforce, SWORWIB, Girl Develop It, INTERalliance, Per Scholas and Cincinnati State Technical and Community College.
MAX Technical Training, located in the Cincinnati Metropolitan Region, specializes in adult learning, particularly for IT and business professional education. Fulfilling their role for the TechHire Initiative will be nothing new to MAX. The IT training company has been developing and delivering specialized bootcamps for clients for over a decade (e.g. transitioning COBOL developers into Java). In 2012, MAX began delivering open enrollment bootcamps in Java and .NET, successfully transforming 40 career changers into gainfully employed software developers under the MAX brand.
"I am so excited to see Greater Cincinnati being recognized as a key city for the TechHire Initiative and to see PCW, SWORWIB and all the others listed as partners." said Denise Bartick, President / CEO of MAX Technical Training. "You know, the White House's TechHire Initiative is new, but the work toward filling the IT skills gap here in Greater Cincinnati, and the collaboration between these local organizations has been going on for some years now, and MAX is very proud to have been a part of that."
With four programs under their belts and the nations TechHire initiative driving the demand for more IT education, MAX has just launched their newly branded developer bootcamp called CincyCodeIT. CincyCodeIT, http://www.cincycodeit.com is dedicated to transforming career changers and non-IT individuals into entry-level software developers in Java or .NET platform in an intensive, 8 week program, including job placement assistance. CincyCodeIT's next 8 week bootcamp starts October 12th, the bootcamp will train new software developers in Microsoft's .NET framework. Having just completed a Java bootcamp in June, CincyCodeIT anticipates their next Java bootcamp to begin Q1 of 2016.
"It is so fulfilling to be the conduit in training and transitioning these people into entry level developers with local and national employers. You would be amazed at some of the stories - about the people who've moved from unemployment or an unfulfilling, low paying job to a new career and a new lease on their future." said Lisa Slutsky, Career Manager with MAX. "It's not easy and it takes a lot of work but we have a 100% employment rate for our graduates - and they and their employers are all smiles. And that's what it's all about!"
About MAX Technical Training
MAX Technical Training has been training beginners, intermediates, and advanced professionals in all of the major areas of IT since 1998. Owned by Denise Bartick, MAX is a women-owned, entrepreneurial IT education training partner for many well-known companies in Cincinnati including, Great American Insurance, Kroger, Cincinnati Childrens Hospital, Cincinnati Bell Technologies, and Dunnhumby / 84.51.
The company delivers training and consulting in today's top technologies specializing in modifying and customizing training to fit client needs in technologies including ITIL, DevOps, IT Security, Networking, Mobile and Web Development, Database Administration, Business Intelligence and Data Warehousing, Business Analysis, Project Management, Leadership Development and more.
MAX Technical Training is a Microsoft Gold Certified Partner for Learning Solutions (CPLS), a Cisco Learning Solutions Center sponsored by Sunset Learning Institute, an ITIL Licensed Affiliate, and a CompTIA Authorized Training Partner. MAX is a three time recipient of the INC 5000, a winner of Greater Cincinnati Fast 55 award, two time winner of Best New Product/Service of the Year for our Developer Apprentice Program and a Certified WBENC (Woman Business Enterprise National Council).
For more information about MAX Technical Training, Inc. or CincyCodeit, visit http://www.maxtrain.com or http://www.cincycodeit.com
###