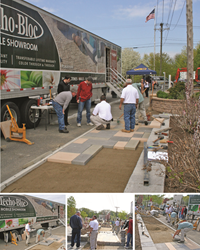 "Many homeowners are eager to roll-up-their-sleeves to learn how to do-it-yourself.
Torrington, CT (PRWEB) June 08, 2015
O&G's Masonry Division, one of Connecticut's premier masonry distributors, is offering two free Do-It-Yourself (DIY) clinics this summer. The news was announced today by Anita Goerig, Director of Marketing for the masonry division.
Join O&G for refreshments and a morning filled with step-by-step information on how to create a beautiful landscape. Sponsored by Techo-Bloc, the DIY clinics will take place at O&G's Earth Products Showcase showrooms from 9-11AM on the following dates and locations:
June 27th— 260 Murphy Road · Hartford, CT (860) 493-0393
July 11th —110 North Main Street · Middletown, CT (860) 347-8549
Techo-Bloc will raffle two $150 gift cards for use in O&G's masonry stores at each event.
The clinics are held primarily to explain the ease of installing pavers for a driveway, patio, and walkway projects. A Techo-Bloc representative will demonstrate the step-by-step installation processes for DIY projects during the event. O&G sales staff will be on hand to assist in calculating the amount of product needed project requirements.
"Many homeowners are eager to roll-up-their-sleeves to learn how to do-it-yourself. That is one of the reasons O&G hosts DIY clinics," remarked Dan Andrews Facility Manager in Hartford.
"The benefits of a DIY paver clinic is to offer an interactive demonstration backed with information for homeowners; this knowledge empowers them to make good choices while understanding the project requirements," added Roy Rogers Facility Manager in Middletown.
About O&G Industries Masonry Division
Since its inception in 1923, O&G Industries, Inc. has grown to become one of the most diversified construction companies in the Northeast and one of the largest suppliers of masonry products and services in New England. Headquartered in Connecticut, the masonry division's facilities include:

Sales professionals work with professionals and homeowners alike where the scope of the plans ranges from commercial to residential projects. Customers receive expert consultation from staff that guide clients through the widest selection of earth-based material available to meet design specifications and budgets. Earth Products Showcases offer professionals and homeowners a place to view elegantly appointed vignettes from classic to contemporary in design. For more information about O&G Industries Masonry Division, please call toll-free 1-800-862-3533 or navigate to O&G's website and social media pages that feature special offers, raffles, ideas, projects and the latest news. Ask for a copy of O&G's luxury lifestyle magazine Stylish Spaces with Masonry.