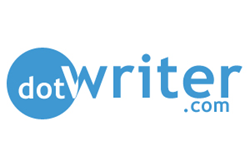 Only eight days after its first launch, Dotwriter was mentioned on KillerStartups as …"An inversion of your typical freelance marketplace," and "A great place to buy content or make money as a writer."
(PRWEB) January 13, 2015
Dotwriter.com just launched a new platform that enables writers to write about any area of expertise and post the articles for sale to buyers, which is beneficial to both parties.
The site is one-of-a kind in that it only allows the best of the best article and content writers to post work. All articles must go through a submission process. The lead editor will accept, reject or ask the writer to modify an article after the reviewing process. A preview is offered to give the buyer a sense of what the article is about, as well as the price.
Writers get paid immediately when a client purchases an article, which cuts through a lot of the hassles and wait times typically associated with assignment-based platforms. The service is also free to the writers and the buyers, however the site operates on a commission-only basis each time an article is purchased.
DotWriter's platform is also extremely convenient for buyers, cutting through a cumbersome workflow process of going back and forth between a freelancer and the specifications of the project. The content is "post ready", making it simple for an entrepreneur to snatch up high quality content to use for blogs, web content projects, newsletters and other marketing needs.
DotWriter.com also makes it attractive to buyers by offering 30 different niches. In case the buyer cannot find a particular article to suit their needs, they have the option of posting a specific request. One of DotWriter's best-of-the best "gold" writers will be given first dibs on the paid assignment.
With more companies emerging on the web, the need for high quality content has never been more pressing. In order for brands to shine through the fierce competition they face on search engines such as Google, Yahoo, Bing and others, the one simple rule to get ahead is to keep current. Posting frequently, and through niche marketing, has been shown to maximize impact for content-hungry consumers.
Pay attention to this up-and-coming startup. With so many great qualities in fulfilling an existing need in the marketplace, it is sure to become a popular go-to site for many buyers who are starving for fresh content without having to go through the process of assignments, escrow accounts and the other hassles of hiring a writer. The content is already there to buy, use and continue on with the next important part of the day. Already since its launch on January 1st, 2015, Dotwriter.com is picking up speed and making its presence known in the marketing scene.
About the Company
DotWriter.com is an online platform that caters to the writing needs of clients and writers. The company provides writers and clients with an open platform to submit and purchase high quality articles on different topics.
Contact Information
Founder: Petre Coman
Email: support(at)dotwriter(dot)com
Website: http://dotwriter.com