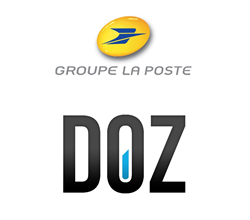 (PRWEB) November 13, 2015
Following their graduation from the 2014 500 Startups class (the same program that has given shape to Sunrise, Makerbot, and TaskRabbit) DOZ now joins Start'inPost, the startup accelerator of Le Groupe La Poste.
As part of the first phase of the Start'inPost program which consists of a business pilot DOZ will work with the "Relationship Marketing" Division, a chance for the startup to grow its core service which gives marketing professionals the opportunity to develop targeted and effective campaigns.
For this initial test, 4 B2B and B2C offers of Le Groupe La Poste have been selected to work with DOZ: email and SMS prospecting campaign, e-mail routing, datamining and geo-marketing analysis. All of these parts are then combined on a single easy-to-use platform (http://get.doz.com/laposte) to empower more effective management.
At the end of the pilot project and if successful, DOZ will enter the second phase of the program that notably involves:

a longer-term business partnership with the objective to boost revenue growth;
custom mentoring over a period of nine months during which La Poste provides material, methodological, and commercial resources along with expert advice to accelerate and broaden the development of the project;
seed funding
Launched in 2013, DOZ has developed a platform to easily manage all phases of an international digital marketing campaign (Search / Social / Content) including the selection of service providers. Notably, DOZ puts a network of more than 5,500 marketing experts in more than a dozen countries around the world just a click away from its international clients.
THE COMBINATION OF A CUTTING EDGE STARTUP AND EXPERT ACCELERATOR PROGRAM
Based in Lyon and San Francisco, DOZ has already provided marketing services to major French and international companies (including Total, Axa, Publicis, and Home Depot) and raised $1.5 million from Kima Ventures, 500 Startups, Nexus Ventures and Bpifrance.
Start'inPost, a subsidiary of the digital division of Le Groupe La Poste, is part of the "La Poste 2020: Conquering the Future" strategic plan promoting innovation for the Groupe. It is a comprehensive support program for the development of startups that can apply online for inclusion: http://en.startinpost.com/apply
Projects are selected across three broad areas that align with the strategic plan of the Group:

commerce and e-commerce services
local services and Internet of things
digital trust solutions
About Le Groupe La Poste :
A French public limited company with 100% public capital since 1 March 2010, Le Groupe La Poste is an original group model organised around five Business Units: Services-Mail-Parcels, La Banque Postale, La Poste Network, GeoPost and Digital Services. The Group has a presence in over 40 countries on four continents. La Poste's 17,000 retail outlets make it France's leading local distribution network, serving 1.7 million customers each day. La Poste delivers 23.5 billion items (letters, printed advertising matter and parcels) per year across the world, six days a week. In 2014, Le Groupe La Poste generated €22.2 billion in revenue – with 17.9% coming from international business – and employed some 260,000 staff. The goal of Le Groupe La Poste's strategic plan, "La Poste 2020: Conquering the Future", is to increase the pace of development of its five business units and advance into new regions. For La Poste, trust and human considerations are vital to its relationship with customers. With the convergence of its networks—available to everyone, everywhere and every day—it is helping its customers to simplify their future. The La Poste digital branch was established in April 2014 and brings together all of the group's digital activities under one roof. It comprises the digital division of La Poste and three BtoB subsidiaries: Docapost (a specialist in the digital transformation of companies), Mediapost Communication (digital media management and data processing) and Start'inPost (a startup accelerator).
About DOZ :
DOZ is a SaaS-powered marketing management solution connecting clients with a curated marketplace of marketing experts worldwide.
Clients can plan and manage their marketing campaigns, control their workflows, and assign marketing tasks to their own teams of any number of DOZ's vetted marketers.
DOZ's network of marketing professionals are automatically identified and qualified for marketing tasks based on a proprietary algorithm that assesses their location, industry knowledge, skills, experience, and existing social proof.
Anji Ismaïl and Faouzi El Yagoubi, DOZ co-founders, aim at replacing traditional agencies.
DOZ has offices in Lyon (France) and San Francisco, and has served hundreds of clients such as Total, Axa, Accor, Home Depot, Kaspersky, Intergraph, Eutelsat etc.
PRESS CONTACT
Le Groupe La Poste
Adelin PYFFEROEN
Tél : +33 1 55 44 22 37
adelin.pyfferoen(at)laposte(dot)fr
Le Public Système for the Digital Services business unit of Le Groupe La Poste
Jennifer Loison
Tél : +33 1 41 34 23 67
jloison(at)lepublicsysteme(dot)fr
Julie Dramard
Tél : +33 1 70 94 65 98
jdramard(at)lepublicsysteme(dot)fr
Audrey Goudet
Tél : +33 1 41 34 20 41
agoudet(at)lepublicsysteme(dot)fr