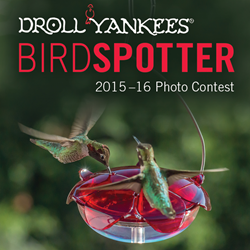 Kicking off their 4th year of the BirdSpotter contest, Cornell reports the popularity has grown each year, with participants doubling last year.
Plainfield, CT (PRWEB) November 24, 2015
Droll Yankees, maker of the World's Best Bird Feeders, is excited to announce their sponsorship of this year's BirdSpotter Photo Contest. This annual event is organized by the Cornell Lab of Ornithology at Cornell University in Ithaca, NY. All contest winners will receive prize packages including a selection of Droll Yankees bird feeders and accessories, as well as gifts from the Cornell Lab. Every Wednesday during the 15 week contest, the photo topic will change, allowing bird loving shutter bugs of all kinds to share their favorite bird feeding photos.
Kicking off their 4th year of the BirdSpotter contest, Cornell reports the popularity has grown each year, with participants doubling last year. The final report from the 2014/2015 contest shows a jump from 230,000 likes, comments, and shares during the 2013/2014 contest to almost 660,000 last year. There were over 3,600 photos entries and more than 23,000 votes were cast during last year's competition. BirdSpotter operates as an engaging adjunct of Project FeederWatch, a Citizen Science program run by the Cornell Lab of Ornithology.
FeederWatch is a winter-long survey of birds that visit feeders located across North America, in places such as backyards, nature centers, community areas, and other locales. FeederWatch participants periodically count the birds they see at their feeders from November through early April and enter their counts on the Project FeederWatch website. Scientists use this information to track broad scale movements of winter bird populations and long-term trends in bird distribution, behavior, and abundance. The BirdSpotter contest is a fitting addition to this important project and it's also the perfect chance to snap a few great pictures of birds between observing feeders for counts. By attracting interest to the Lab's programs, BirdSpotter plays an important role in the mission of the Lab: To interpret and conserve the earth's biological diversity through research, education, and citizen science focused on birds.
With over 55 million American households feeding birds, it's no surprise that 35,000 members loyally support the Cornell Lab and its programs. Additionally, FeederWatch participants make up a great deal of the over 200,000 citizen scientists that the Lab interacts with every year. The Lab's work is far reaching and includes educational programs and curricula; habitat preservation; studies of migration, climate change effects and endangered birds, as well as the largest collection of bird songs. Through support of the Lab, the bird loving public can participate in Citizen Science and make a substantial contribution to data collection.
Droll Yankees has long been involved in supporting organizations that promote the love of birds through education and preservation and has been a supporter of the Lab for decades. The Lab's archives contain several bird recordings made by Peter Kilham, the founder of Droll Yankees. Kilham's recordings were among the earliest commercially promoted bird songs, aimed at enhancing the general public's enjoyment and appreciation. His nature recordings were Droll Yankees' first products prior to expanding into the bird feeder market with Kilham's invention of the first tubular bird feeder in 1969.
Droll Yankees could think of few organizations better to partner with to promote engagement with wild birds and to educate people about their roles than the Cornell Lab of Ornithology. Paul Baicich, a co-author of Feeding Wild Birds in America: Culture, Commerce, and Conservation, expresses the great importance of birds, saying "What birds tell us via scientific monitoring may be crucial to our own survival. Indeed, the whole issue of climate change can be read through birds' altered ranges, distribution, and shifts in migration and in nesting phenology." Citizen science endeavors, like Project FeederWatch and BirdSpotter, are crucial for scientists to gather the statistical evidence needed to accurately study these types of findings and grasp the effects of climate change as a whole.
With its enthusiastic support of the BirdSpotter contest this year, Droll Yankees hopes to entice more contributors to participate by submitting photos, generating an atmosphere of discovery. The prizes furnished by the company reflect their tradition of quality products that work well for the birds and the people who feed them, while offering many years of bird feeding fun for birders of all ages. Droll Yankees is excited to share that tradition with the dedicated citizen scientists that participate in BirdSpotter and Project FeederWatch.
Visit http://www.drollyankees.com to learn more about feeding birds and to purchase bird feeding products.
In 1969, Droll Yankees started a bird feeding revolution with Model A-6F, the first tubular bird feeder. Since then, Droll Yankees has built on that success, continually developing innovative approaches to bird feeding that benefit both the birds and Droll Yankees customers. Generations of bird lovers have appreciated Droll Yankees' quality construction, functional simplicity, and commitment to American workers. Droll Yankees offers a Lifetime Warranty Against Squirrel Damage and will replace any squirrel-damaged or defective parts, free of charge. To learn more about Droll Yankees' products, visit drollyankees.com