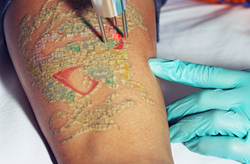 We've been offering tattoo removal for quite some time now but wanted a system that could keep us at the cutting-edge.
Eau Claire, WI (PRWEB) November 06, 2015
The industry-leading Astanza Duality tattoo removal system is now at Clearly You, a leader in Eau Claire aesthetics. The advanced laser clinic focuses on transforming skin through the removal of unwanted tattoos. They decided to trade in their existing laser in order to continue their reputation of being the best laser tattoo removal provider in Eau Claire. In addition to laser tattoo removal, Clearly You also performs advanced electrolysis for patients seeking long-lasting hair removal.
"Clearly You was founded to give local residents of Eau Claire and surrounding areas quality laser tattoo removal treatments," said Brenda Mueller, owner. "We've been offering tattoo removal for quite some time now but wanted a system that could keep us at the cutting-edge. The Astanza Duality's actively Q-switched pulses give us more power, and our patients will see better results in fewer treatments."
The Astanza Duality laser featured at Clearly You is a powerful laser system that is specially designed to eliminate ink trapped deep in the skin without harming any surrounding skin tissue. The Duality produces two versatile wavelengths of light that are able to effectively treat a wide range of tattoo ink colors on all skin tones. Each pulse that is emitted features exceptionally high peak power – allowing for better ink shattering and faster tattoo clearance. Clearly You is the first specialty laser clinic in Eau Claire to feature the Astanza Duality laser.
About Clearly You:
Clearly You is a laser clinic located in Eau Claire, Wisconsin and serving the surrounding regions, including Chippewa Falls, Menomonie, Thorp, and Osseo. The clinic specializes in tattoo removal treatments for unwanted or poorly constructed tattoos as well as electrolysis for hair removal. All staff members of Clearly You are expertly trained laser technicians that have been certified by New Look Laser College, a world leader in tattoo removal training.
Clearly You offers free consultations and tattoo assessments to all patients. For more information on laser tattoo removal at Clearly You, call (715) 456-2104 or visit http://www.clearlyyoueauclaire.com. Their clinic is located at 2186 East Ridge Center, Eau Claire, WI 54701.
About Astanza Laser:
Astanza is a leading manufacturer of Q-switched lasers with a unique focus on the application of laser tattoo removal. In addition to developing cutting-edge medical laser devices such as the Duality, Eternity, and Trinity laser systems, Astanza offers its customers a complete range of training, marketing, and business consulting services specific to achieving success in this growing field.
Astanza Laser is headquartered in Houston, Texas with customers throughout North America and Europe. For product, investor, or press information, call (800) 364-9010, or visit http://www.AstanzaLaser.com.