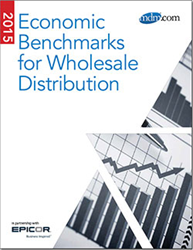 LAFAYETTE, Colo (PRWEB) June 08, 2015
Total revenues of wholesale distributors grew by 5.1 percent to $5.4 trillion in 2014, demonstrating slightly higher growth than in 2013, according to the newly released 2015 Economic Benchmarks for Wholesale Distribution (http://www.mdm.com/2015ebwd), published by Modern Distribution Management, in partnership with Epicor. The wholesale distribution industry is forecast to grow by 6.1 percent in 2015.
Sixteen of the 19 major sectors are expected to grow in 2015, with the fastest growth anticipated in Building Material & Construction and Furniture & Home Furnishing, and the slowest growth in Oil & Gas Products and Chemicals & Plastics.
The 2015 Economic Benchmarks for Wholesale Distribution, formerly the Wholesale Distribution Economic Trends Report, includes segment and overall industry revenue trends, inventory levels, trends and other critical benchmark data for 19 sectors in the distribution industry. New this year, the report also includes 2015-2016 forecasts, as well as national and regional economic overviews.
The reports use data from the most recent U.S. Annual Wholesale Trade Survey and reflect March 2015 government data revisions.
The 18 sectors included in the report and available for individual purchase are: Industrial; Hardware, Plumbing & Heating Equipment/Supplies; Electrical/Electronics; Grocery & Foodservice; Building Material & Construction; Oil & Gas Products; Motor Vehicles & Motor Vehicle Parts; Other Consumer Products; Miscellaneous Durable Goods; Commercial Equipment & Supplies; Computer Equipment & Software; Agricultural Products; Apparel & Piece Goods; Beer, Wine & Liquor; Chemicals & Plastics; Office Products; Furniture & Home Furnishings; and Metal Service Centers. The full report also includes data on pharmaceutical wholesalers.
These distribution sector reports, delivered in downloadable PDF, include detailed distribution channel benchmarking data, which is an invaluable resource for those who manage, sell to or invest in a wholesale distribution company.
For more information, or to purchase the 2015 Economic Benchmarks for Wholesale Distribution, visit http://www.mdm.com/2015ebwd. For questions, call MDM at 1-888-742-5060.
______________________________________________________________________________
About Modern Distribution Management:
Modern Distribution Management (http://www.mdm.com) is the premier source of research on the wholesale distribution industry and offers news, blogs and premium newsletters to executives in wholesale distribution businesses or that sell through or to wholesale distribution businesses.
About Epicor:
Epicor (http://www.epicor.com) provides software solutions that integrate and run a company's fundamental and most industry-specific business operations. By delivering a complete range of business software solutions along with a single point of accountability, our customers can achieve operational excellence and sustained market leadership.