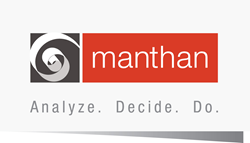 In the next three years, 60% of digital commerce analytics investments will be spent on customer journey analytics.
Phoenix, AZ (PRWEB) May 19, 2015
Manthan, the global leader in advanced Retail, CPG and e-Commerce Analytics was included in the Gartner Digital Commerce Vendor Guide 2015 *, along with 11 other industry leaders. IT application leaders worldwide, use this widely read Vendor Guide to develop and evolve the organization's digital commerce vision.
The highly contested e-Commerce market is poised for high growth, fueled by its ability to reach, connect, engage and fulfill Omni-channel customer aspirations. Manthan is a single point strategic partner to leading online businesses, providing wing to wing e-Commerce analytics solutions. Manthan's e-Commerce Analytics portfolio offers relevant analytics capabilities across Personalized Marketing, Merchandise Management and Demand Conversion Services.
As per Gartner, "Consumer expectations continue to rise, increasing the complexity of digital selling which, in turn, increases the number of application integrations required to deliver the desired customer experience and illustrates a rise of investment by savvy sellers into technology firms that enable differentiation." Manthan helps online businesses in building this differentiation with quick to deploy, easy to use, business aligned and real-time analytics solutions.
"We understand the customer expectation of a seamless experience across channels; and the need of the retailers, online or brick and mortar, to keep pace with the complex business realities of managing merchandise, easing supply chain while ensuring customer delight. Our solutions are geared to catapult every role in retailing to informed decision making and quick action with visible results," said Atul Jalan, CEO at Manthan.
Gartner predicts that "in the next three years, 60% of digital commerce analytics investments will be spent on customer journey analytics. And, by 2018, organizations that have fully invested in all types of online personalization will outsell companies that have not by more than 30%.". With Manthan's solution, retailers can work towards increasing customer lifetime values by tracking, managing and nurturing customers through their lifecycle, with the use of innovative customer churn, and purchase propensity models.
Dependence on search engine marketing to boost digital commerce has not provided desired results. Studies show that social channels are proving to be 30% better in ROI with their viral effect and ability to re-target. To help businesses stay ahead of the curve, Manthan has developed solutions that help marketers identify personas of customers for each category with precise targeting and personalization, to drive omni-channel customer engagement
With the growth of data services and increased penetration of smart phones, e-tailers are able to attract more traffic to their site. The challenge remains to convert it into actual sales. The key is to have a holistic approach where business processes and technology align, to build a robust operations and fulfillment mechanism that compliments marketing efforts. Manthan helps its customers enhance demand conversion by going beyond web analytics and integrating it with marketing and merchandising insights. Manthan's e-Commerce analytics solution enables e-tailers to balance customer acquisition and margins by identifying the right assortment, pricing and inventory strategies.
----------------------------------------
About Manthan :
Manthan is the Chief Analytics Officer for consumer industries worldwide. Manthan's portfolio of analytics-enabled business applications, advanced analytics platforms and solutions are architected to help users across industries walk the complete data-to-result path - analyze, take guided decisions and execute these decisions real-time. Sophisticated, yet intuitive analytical capability coupled with the power of big data, mobility and cloud computing, brings users business-ready applications that provide on-demand access and real-time execution - the only path to profit in a contemporary, on-demand and connected economy. Manthan is one of the most awarded analytics innovators among analysts and customers alike - with over 170 customers across 21 countries. To see how your business can gain from analytics, Visit manthan.com.
(*Gartner, The Gartner Digital Commerce Vendor Guide, 2015, Chris Fletcher, et al, 09 April 2015)