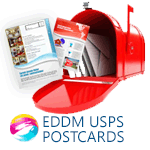 Renowned business printing services provider achieves another milestone by becoming top online Every Door Direct Mail (EDDM) postcard printer.
New York, New York (PRWEB) January 19, 2015
55printing.com announced that its Every Door Direct Mail (EDDM) printing service has become one of the top three offered by the company. According to the company's research personnel, EDDM printing is one of the popular services chosen by online, local, small and large businesses. Through it, they can print promotional brochures, flyers, catalogs and postcards before circulating them through the U.S. Postal Service's EDDM program. As a result, companies can target clients in their vicinity and reap the benefits of print advertisements, which include adding a personal touch, ensuring visibility, and guaranteeing better results than email marketing.
Commenting on this finding, a spokesperson said, "It's a well-known EDDM programs are so widely accepted among today's companies, especially since it spares companies from resorting to expensive mailing lists. Since rolling out our EDDM printing services, we have been the first choice of a variety of service providers such as lawyers and retailers. Therefore, it is no surprise that it has become one of the top services we proudly offer."
One of the reasons behind the service's popularity is the company's high quality, which is ensured by printing on 14pt gloss coated cover with UV high gloss finish on both sides. Moreover, the printer promises savings through prices starting from $59 for 8" x 6.5" postcards. Companies can also upload their designs, choose from thousands templates offered, or use 55printing.com's online designer to create customized promotional materials. To further ensure value for money, the renowned EDDM printer offers a range of options, including color on one or both sides, printing turnaround, bundling on sets of 50s or 100s, and file review option to ensure EDDM eligibility.
"Many companies are still in the process of re-discovering direct mail and EDDM, which is why having professional such our team members helps," said the spokesperson. "As experts in this printing niche, we know the rules established by the U.S.P.S. and can offer our clients the guidance they need. We can also analyze our clients' requirements and come up with inexpensive campaigns that connect them to their audience without exhausting their budgets."
Also ensuring the rise of EDDM printing to the top three is the company's numerous discounts on its services. Through these, businesses, retailers and professionals can easily save more on the already-affordable service once the postcard printing company rolls out a new promotion.
For more details on 55printing.com, its EDDM printing service or upcoming promotions, please visit 55printing.net
About 55printing.com
55printing.com is a renowned printer that specializes in designing and printing products, including business cards, postcards and brochures. Established initially as Advantage-Studios in 1999, it offers businesses the chance promote their brands and offerings across the nation. As one of the leading Every Door Direct Mail (EDDM) printers, 55printing.com promises to cut business' costs, boost their marketing efforts, and ultimately generate more revenue. For more information, visit 55printing.net.
Contact Details
To connect with 55printing.com, contact Jean Francois through the following channels:
Phone: 866-200-2317
Email: Jeanfrancois(at)55printing(dot)com
Address:
5042 Wilshire BLVD #22954,
Los Angeles, CA 90036
Website: http://www.55printing.net