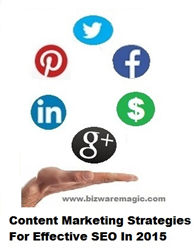 Using these helpful Content Marketing Strategies will greatly improve your site's SEO in 2015.
(PRWEB) February 28, 2015
Recently, the Bizwaremagic.com site published a new article entitled "Content Marketing Strategies for Effective SEO In 2015" that may help improve any website's SEO in the coming year. This detailed article examines how SEO (Search Engine Optimization) has significantly changed in recent years and how webmasters or site owners must adjust their marketing strategies in order to receive more online visibility on the new Web.
This "new" web is largely determined by the constant changes Google has been making to its algorithm, the complex formula it uses to rank/index quality content on the web. Starting in 2011 with the Panda Update, Google drastically changed which sites deserved higher rankings depending on the perceived quality of a website. Things were further complicated with the introduction of the Penguin Update in 2012, which severely penalized websites with link building practices that Google believed violated its guidelines.
However, other more important factors have changed the web in recent years. These include the growing popularity and usage of mobile devices such as tablets and smartphones to access the web. Furthermore, the over-riding dominance of social media sites has greatly altered how content is presented and shared on the web. Bizwaremagic believes all these changes have made web content much more visual and compact.
"Compared to 10 or even 5 years ago, the web is much more social and interactive. Web users are no longer satisfied with being just observers; they want to be a part of the interaction," says Titus Hoskins, a former art teacher who now runs the Bizwaremagic site. "Platforms like Twitter, Facebook, Pinterest, YouTube... have greatly changed how content and the web is used."
Webmasters and site owners must adjust their SEO strategies accordingly if their want to be effective on this new, more social web. Greater emphasis must be placed on building active online communities that will help share and promote a site's content. Greater importance must also be placed on creating more visual content such as images, videos, slideshows and infographics.
Bizwaremagic also believes webmasters must build or put into place strategic communities in these social platforms in order to create effective SEO in 2015. Any link sharing and/or building must be intuitive and natural. Webmasters should also pay special attention to how visitors interact on their sites. Such things as bounce rates, load times, time spent on site and number of pages viewed - are all important metrics that have become more significant to many of the search engines, especially Google.
Lastly and contrary to what many experts now suggest, webmasters must take an active role in creating SEO for their sites. They must take an active role in creating strategies which will place their web content in the best positions for achieving higher visibility on the web.
For a full list of Content Marketing Strategies and how to implement them, go here: http://www.bizwaremagic.com/content-marketing-for-effective-seo.htm
About Us:
Bizwaremagic.com is a 12-year-old small business solution site that offers many free guides to its visitors and patrons. Over the years, it has helped thousands of webmasters and site owners find the right information they need to succeed online.