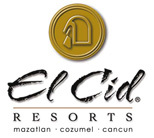 Cancun, Mexico (PRWEB) February 23, 2015
TripAdvisor has highlighted the world's top properties based on the millions of reviews and opinions collected in a single year from travelers around the globe. Aside from the hotel industry, restaurants, tour companies and virtually anything travel related, strives to attain a high TripAdvisor rating. In today's fast moving tech savvy and review-oriented world, what potential clients read online is very important.
Receiving a TripAdvisor Travelers' Choice award is very important to El Cid Resorts, as these awards are based on reviews generated from guests who have personally experienced El Cid. For the third consecutive year, Hotel Marina El Cid Spa and Beach Resort in Riviera Maya has been named one of the Top Hotels/Resorts for families in Mexico. This TripAdvisor "Travelers' Choice Award" does not come as a surprise to the management team at El Cid, as all year long they watched and commented on the wonderful guest reviews posted on TripAdvisor.
This award signifies and reinforces just what El Cid Resorts defines: quality and service. Earning positive reviews online requires the hard work and dedication of the staff who provide the wonderful service, and then help make a good vacation into a great vacation. This dedication to customers of El Cid Resorts yields these stellar online reviews and is why El Cid can proudly announce the receipt of this award for 2015.
With a collection of six resorts available in Mazatlan, Cozumel, and Cancun, Mexico, El Cid guests have a variety of options from which to choose. The Riviera Maya is a very special destination; the city of Cancun has all of the activities to make a wonderful vacation. From pristine beaches, world class dining and shopping and so many other activities, there is something for everyone in this tropical paradise. The Riviera Maya is also a world famous destination due to its historical sites nearby. The ruins of Chichén Itzá and Tulum are some of the most famous and most visited in Mexico. Sites such as these, and so much more, are what make the Riviera Maya a truly magical and world-famous destination. With so many wonderful activities and so many hotels and resorts to choose from, is a true testament to the El Cid brand.
###
El Cid Resorts Contact Information
International
Toll-Free: 1 866 306 6113
http://www.elcid.com
Within Mexico
Mazatlan Toll-Free: 01 800 716 9800
Riviera Maya Toll-Free: 01 800 003 6292
Cozumel Toll-Free: 01 800 670 3277
http://www.elcid.com.mx