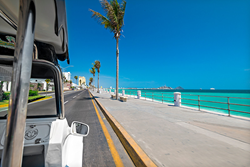 Mazatlan, Mexico (PRWEB) July 09, 2015
With some of coastal Mexico's best land and sea activities for travelers, a rich history and vibrant culture, as well as world-class resorts like El Cid, Mazatlán is quickly returning to its position as the most sought-after vacation destination.
Travelers will most likely realize the popularity of Mazatlán when they go to book a flight for a trip to El Cid Resorts this summer. Delta Airlines has a new seasonal, nonstop service from Los Angeles, and Sun Country has expanded its seasonal service from Minneapolis; the airline increased their flights to Mazatlán from two per week to four. The Rafael Buelna Airport also underwent a $7.4 million renovation, which included a new facade, a redo of the corridors and check-in areas and the addition of specialty shops. New jet ways also eliminate walking across the tarmac in the hot summer sun and climbing stairs to the airplanes.
Once visitors get into town, they will also notice that Mazatlán's Historic District is more vibrant than ever. The 180-block district, which includes 500 buildings that have been designated historic landmarks, underwent a massive renovation that revitalized its 19th century buildings and landmarks. Travelers looking for Mazatlán's cultural hub will find it here, with its boutiques, museums, jazz clubs, galleries and cafes. And for a bit of culture during the vacation, visitors must attend a performance at the Angela Peralta Theater, which takes its name from the 19th-century opera star. The theater offers a variety of theatrical performances, operas and concerts.
"If you want a real, authentic place in Mexico you have to come to Mazatlan," said Frank Cordova, Mazatlan's secretary of tourism, during an interview earlier this year. "It's Mexico's only colonial city on the beach with 400 years of history, culture and gastronomy."
From world-class golf to some of the best sport fishing on the planet, Mazatlán is once again one of the most desired Mexican vacation destinations. Visitors can experience the vibrant nightlife of the Golden Zone while staying at El Cid Marina Beach or get some tee-time at the Lee Trevino-designed course at El Cid Golf and Country Club. The choices are many, and El Cid is at the center of the action.
About El Cid Resorts –
El Cid Resorts owns a collection of six luxury hotels in three destinations which it has managed for over four decades. With resort options in Mazatlan, Cancun, and Cozumel, Mexico, El Cid provides some of the best vacation experiences available. By offering a wide variety of services, amenities, and different meal plan options including all-inclusive, guests can customize their vacation to suit their needs. El Cid Resorts in Mexico has been honored with customer choice awards from companies such as TripAdvisor, AAA, and other quality travel companies. For more information on El Cid Resorts please visit http://www.elcid.com.
###
El Cid Resorts Contact Information
International
Toll-Free: 1 866 306 6113
http://www.elcid.com
Within Mexico
Mazatlan Toll-Free: 01 800 716 9800
Riviera Maya Toll-Free: 01 800 003 6292
Cozumel Toll-Free: 01 800 670 3277
http://www.elcid.com.mx