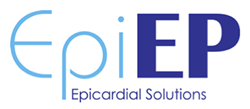 New Haven, Conn. (PRWEB) May 04, 2015
EpiEP Inc. (EpiEP), a medical device company that has developed an FDA-cleared and CE-marked epicardial access system, today announced the completion of the Post-Market Clinical Follow-up (PMCF) study for the EpiEP EpiAccess™ system ("EASe"), conducted at four sites in Europe.
The EpiAccess™ system provides real-time information on the location of the needle tip during complex epicardial procedures.
"We are delighted to have reached this significant milestone for our organization and would like to thank the physicians and patients that participated in the study," said Pamela Bunes, founder and CEO of EpiEP. "We plan to continue to monitor the system performance in the coming months with the start of our US- based registry, EASYER."
Data from the study will be presented at the Heart Rhythm Society annual meeting in Boston, Mass., by Luigi Di Biase MD at the moderated poster session called Catheter Ablation: New approaches and new tools on Friday, May 15, 2015, at 3:25 p.m. in the EpiCenter Theater 2, Exhibit Hall.
The EpiAccess™ system obtained FDA 510(k) clearance on October 29, 2014 (K142245) and has CE Mark approval for sale and distribution in Europe. The system includes a single-use needle with an incorporated pressure sensor, and a pressure monitor that uses proprietary algorithms to analyze pressure frequency data. The information is presented in an intuitive and easy to understand display, which instantly informs physicians of needle tip location which is designed to reduce the risk of procedure complications and to simplify access to the pericardial cavity.
"Together with existing image guidance, EpiAccess provides physicians with additional, detailed needle positioning information to more safely access the pericardial space," said Andrea Natale MD, Texas Cardiac Arrhythmia Institute at St. David's Medical Center in Austin, Texas. "We are very excited to see the data from EASe, which will serve to further open up the field of safe, effective pericardial access and related therapies in the pericardial space."
About EpiEP Inc
EpiEP, Inc. has licensed a portfolio of patent-protected epicardial medical devices from the University of Virginia. These products will impact the growing field of electrophysiology by providing physicians with novel tools to access and treat various cardiac conditions. The EpiAccess™ system is the flagship product, which provides electrophysiologists with a pressure guided access needle so the physician knows where the tip of the needle is located when it is being advanced to the virtual space between the pericardial sac and the surface of the heart without injuring the heart. The EpiAccess™ system is designed to result in better patient outcomes by reducing unintended puncture in the heart muscle. The system provides real-time feedback for physicians so they can know when the needle has reached the desired location.
Source: EpiEP, Inc.
Pam Bunes
Founder and CEO
+1 864 423 2526
+1 203 779 5383
Investor Relations
pbunes(at)epiep(dot)com