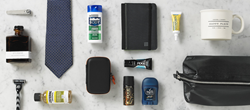 Over 47 million people passed through the San Francisco International Airport in 2014, and I bet more than a few of them forgot to pack an item critical to their travels.
San Mateo, California (PRWEB) October 15, 2015
EssentialsGo is pleased to announce a successful first month of business after launching in September, fielding demand from thousands of visitors looking for gift and luxury travel concierge services, and affirming why online personal care sales have nearly doubled in the United States since 2010. The company reports the EssentialsGo Travel Box was the most popular item sold, and San Francisco, Los Angeles and New York generated the most traffic to the site. EssentialsGo is currently increasing its inventory to keep up with consumer appeal during the holiday season so valued clients, bosses, employees and colleagues can design their own travel essential gift baskets.
"There has been a lot of interest in EssentialsGo as the newest start-up to provide a service that no other company is currently offering in the travel space," said Lisa Lum, Founder of EssentialsGo. "I'm thrilled with the response people have had to our website, and in particular, our Travel Boxes."
The EssentialsGo Travel Box contains five to 10 items that can be customized for packing, and scheduled for shipment or delivery. Customers can open a free account, tailor their packing list, decide on the method of shipping and immediately relieve the stress of travel, which is especially convenient for travelers using Airbnb-styled services. Reorders are also effortless, revolutionizing the way people travel by thinking ahead and traveling smart.
"We expedite travel products all over the United States, but we currently offer fast, same-day delivery in the San Francisco bay area for residents and businesses needing immediate service. Over 47 million people passed through the San Francisco International Airport in 2014, and I bet more than a few of them forgot to pack an item critical to their travels," said Lum.
With EssentialsGo same-day delivery, companies in San Francisco can instantly reward employees with business travel products, provide newly relocated employees housewarming gifts, have products on hand for valued clients or supply essential gifts for corporate meetings or events at the last minute. With on-demand delivery the current rage in California, EssentialsGo is keeping up with the expectation that high-touch concierge services save consumers time, and reduce stress.
"The U.S. travel outlook for this holiday season is particularly strong, and travelers will be dealing with long lines and heightened security. EssentialsGo is ready to help travelers take their mind off of forgotten or lost items, and help businesses provide luxury travel gifts that go beyond ordinary," concluded Lum.
Travel boxes, essential products and luxury travel items can be found on the EssentialsGo marketplace. For more information, visit http://www.essentialsgo.com or text 855-974-4494.
About EssentialsGo
Founded in July 2015 and based in San Mateo, California, EssentialsGo is an on-demand travel essentials e-shop for people to get their everyday travel essentials delivered to their destination. Products sold range from national best selling products of recognized brands that travelers need, to popular products from luxury brands. EssentialsGo also offers customers a personal shopping service where people can submit their wishlist and a customized bundle is put together and delivered to them. Shipping is currently available within USA only. Same-day delivery is currently available in San Francisco bay area. EssentialsGo looks to add more city locations in the near future. For more information visit http://www.essentialsgo.com.