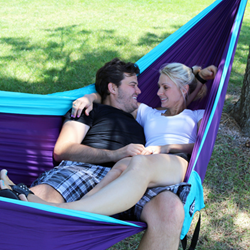 "We wanted to have a hammock that was great quality but affordable."
Colorado Springs, CO (PRWEB) August 26, 2015
Explore Outfitters is pleased to announce its latest product launch for the nylon double camping hammock that not only outperforms other brands but also costs less than gear of comparable quality. The hammock is designed and made by a small family business of outdoor enthusiasts who create products that they would use outdoors. Company founder Shawn Gibson summed up what makes the double camping hammock special: "We wanted to have a hammock that was great quality but affordable. We included 12-foot-long paracord ropes, so you don't have to buy any accessories for easy setup. We also made the hammocks wider and longer so that you could comfortably spend time and enjoy the companionship of your loved one by your side."
Travel Hammock for Active Lifestyles
Unlike complex tents, heavy sleeping bags and cheaper hammocks, the double camping hammock from Explore Outfitters is comfortable and roomy, includes extra rope and takes fewer than three minutes to hang. The hammock measures 10'6" by 6'6", and is ideal for resting, screening sun, wind and bugs and camping securely for the night. The storage pouch is part of the hammock, so people never need to worry about losing the lightweight, durable and comfortable travel pouch. Perfect for the beach, the product provides portable and comfortable relaxation or sleep when traveling, sailing or relaxing in the backyard. Kids love to camp out back with their friends in these affordable and safe hammocks. Gibson commented on the travel hammock: "People love to hike, go on a camping trip or have an outdoor adventure. What better way is there to enjoy the experience than bringing a compact and portable hammock with you so that you can relax and enjoy your time outside?"
Product Reviews and a Special Offer
Amazon customers rated the camping hammock as a "#1 Top Rated," five-out-of-five-stars product. Amazon's verified buyers of the 2 person hammocks offered the following words of praise for the hammock:

Julie Knechtel -- "The instructions were clear which made the hammock easy to setup. It is very comfortable and the material feels strong and durable."
Kim H -- "So Worth the Money" "I LOVE, LOVE, LOVE this camping hammock. My twins already have it hanging between two pillars in our basement."
John Davis -- "Best Camping Purchase of the Year" "Super well made and super light weight....Very sturdy."
The double camping hammock, as Kim H mentioned in her review, can be used as an extra bed or travel hammock that's ideal for couples, hikers and nature lovers to nap while on the trail or for sharing a relaxing moment. Fishers can use the hammock to rest comfortably while waiting for the fish to bite. Survival Expert, Ben Pittsley, says the hammock is super affordable on a new video for the portable hammock released on YouTube last month. Hikers, campers, and adventurers are encouraged to Like Explore Outfitter's Page on Facebook to join the growing community of outdoor enthusiasts that receive hammock tips and news.
More Information
Shared experiences, reliable gear and beautiful outdoor surroundings create memorable and enjoyable adventures for everyone, even people who don't often camp or hike. Sleeping in a hammock is like resting on a cushion of air, and hammocks avoid the inconveniences of sloped ground and uncomfortable rocks and tree roots. Nature lovers, people who love outdoor recreation and outdoor dabblers can learn more about the double camping hammock at Amazon.com by reading reviews from Amazon customers who have bought and used the product. Amazon shoppers looking for Explore Outfitters new double nylon camping hammock can purchase it exclusively through Amazon: http://www.amazon.com/dp/B00YNDIUW0 . The product retails for $47.95, but for a limited time customers can save 15 percent by entering code "SAV15PRW" at checkout. This product is backed by Explore Outfitters 100 percent money-back guarantee, which promises a full refund. No questions asked if dissatisfied.
About Explore Outfitters
Explore Outfitters doesn't operate the same way as most manufacturers do, which usually involves focusing on the business side of manufacturing and generating higher profits with cheaper materials and built-in obsolescence. Founded in Colorado Springs, Colorado, in the beautiful and breathtaking Rocky Mountains, the company is a closely knit, family-style operation. The company's staff members are nature, camping and hiking enthusiasts who actually use outdoor products, understand what goes into a high-quality product and commit to providing affordable gear that consistently outperforms competitors' products in all the qualities that really matter to outdoor enthusiasts: lightweight construction, durability, beauty, elegance, portability and packability. The company always strives to develop outdoor recreational products that each staff member would buy, use and recommend to his or her family and friends.
Company founder Shawn Gibson ensures that each company product complements the spirit of sharing nature's resources and outdoor adventures with loved ones and each adventurer's most intimate companion. The double camping hammock encourages partners to share their hiking, backpacking, camping, kayaking, surfing and sailing journeys. Hunters and anglers can also enjoy the company's products for napping after a long hunt or fishing session. The extra-large hammocks provide comfortable accommodations for large people who find standard sizes too small.