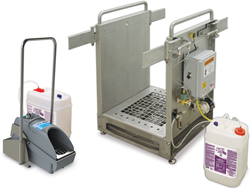 These are very versatile systems. The HACCP SmartStep™ and HACCP Defender™ provide processors with an effective system in the fight against cross-contamination from footwear
Nevada City, CA. (PRWEB) September 10, 2015
Best Sanitizers, Inc. is introducing food processing plants, nutraceutical facilities, pharmaceutical processors, and clinical research labs to the future of footwear sanitation with the HACCP SmartStep and HACCP Defender Footwear Sanitizing Stations. These units use an atomized mist of Alpet® D2 Surface Sanitizer to saturate employee footwear soles before they enter a critical control area. Each employee gets a fresh application of Alpet D2 which means the results are consistent and measurable, unlike a traditional foot bath which becomes less effective with each use, requires constant monitoring, and adds unwanted moisture to the processing environment. The walk-through design of the HACCP Defender makes it ideal for high-traffic areas, while the compact footprint of the HACCP SmartStep (10"x21.5"x 17") allows placement in multiple locations, increasing protection and reducing risks of cross-contamination. Either unit can be used individually or in combination to maximize pathogen protection and control moisture throughout the facility.
Best Sanitizers' Alpet D2 Surface Sanitizer provides excellent coverage when delivered through either footwear sanitizing unit and it is widely used throughout the food processing industry for sanitizing tools, hard surfaces, and water sensitive equipment. The 58% isopropyl alcohol/quaternary formulation is a ready-to-use (RTU), no-rinse sanitizer, and is safe for use on food contact surfaces. Alpet D2 is a proven rubber boot and glove sanitizer, is NSF registered, Kosher certified and Pareve. Alpet D2 kills 99.999% of tested bacteria, including E. Coli, Listeria, and Salmonella. With the proven effectiveness of Alpet D2 Surface Sanitizer, combined with the HACCP SmartStep™ and/or the HACCP Defender™ Footwear Sanitizing Station, the future of footwear sanitation has arrived.
"These are very versatile systems. The HACCP SmartStep™ and HACCP Defender™ provide processors with an effective system in the fight against cross-contamination from footwear" added Ryan Witt, Best Sanitizers' Vice President of Sales and Marketing. "This is a significant step forward for food processors."
For more information on the HACCP SmartStep™ and HACCP Defender™ Walk-Through Automatic Footwear Sanitizing Stations, please visit http://www.bestsanitizers.com.
About Best Sanitizers, Inc:
Since 1995, Best Sanitizers, Inc. has been providing the Food Processing, Janitorial Sanitation and Healthcare industries with the highest quality hand soaps, hand sanitizers, surface sanitizers and dispensing options available. These products are used in over 8,000 U.S. food processing facilities. Best Sanitizers was the first company to achieve an E3 rating for an alcohol-based hand sanitizer, the first to achieve a D2 rating for an alcohol/quat-based surface sanitizer, and continues to explore new and innovative ways to deliver hand hygiene and surface sanitation solutions.