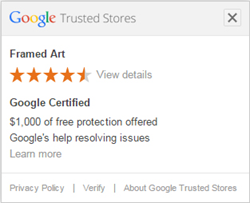 We recognize the importance of trust between a customer and an online retailer. Now, first time customers will know it too.
Monmouth Junction, NJ (PRWEB) March 20, 2015
FramedArt.com, which offers a wide variety of framed prints and canvas art, was recently selected to join the Google Trusted Stores program. To help shoppers identify online merchants that offer a great shopping experience, the Google Trusted Store badge is awarded to e-commerce sites that demonstrate a track record of on-time shipping and excellent customer service. When visiting FramedArt.com, shoppers will see a Google Trusted Store badge and can click on it for more information.
"We're honored and excited to receive this badge," said Tom Novellino, CEO of FramedArt.com. "Offering high quality products and outstanding customer service are two things we care deeply about at FramedArt.com. We recognize the importance of trust between a customer and an online retailer. Now, first time customers will know it too."
FramedArt.com has well exceeded Google's minimum requirement of 200 orders a month and its standards for positive shopping experiences. When shoppers visit FramedArt.com now, they can click on the Google Trusted Stores Badge on the corner of the screen to view metrics as well as reviews submitted by past purchasers. The website currently has a Shopper Approved 5-star rating for overall satisfaction and a 96% average for on-time delivery.
"The badge is a great opportunity for new and existing customers to see what FramedArt.com is all about – customer service, quality products and great delivery," said Novellino. "We are honored to receive this award and will continue to earn it, one customer at a time."
As an added benefit, when a shopper makes a purchase at a Google Trusted Store, they have the option to select free purchase protection from Google. Then in the unlikely event of an issue with their purchase, they can request Google's help, and Google will work with FramedArt.com and the customer to address the issue. As part of this, Google offers up to $1,000 lifetime purchase protection for eligible purchases.
Google Trusted Stores is entirely free, both for shoppers and for online stores. The program helps online stores like FramedArt.com attract new customers, increase sales and differentiate themselves by showing off their excellent service via the badge on their websites.
FramedArt.com offers high quality framed art, canvas transfers, art prints and photos on canvas. With over 175,000 artwork choices and tons of frame and mat combinations, FramedArt.com offers a large variety of finished products to fulfill its customers' styles and needs. Each framed and canvas product is hand-crafted by skilled art experts in their New Jersey warehouse. FramedArt.com offers a 100% satisfaction guarantee as well as a 30-day return policy for all of its products to ensure customer satisfaction.
For more details and information on FramedArt.com, please visit http://www.framedart.com.