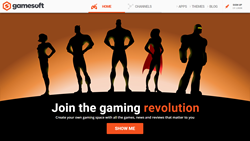 With GameSoft we're giving the control of content into the hands of fellow gamers.
London, UK (PRWEB) December 08, 2015
GameSoft Interactive, a UK based gaming startup, announces the launch of its online gaming space platform GameSoft.com, the first of its kind, built for gamers by gamers from the ground up.
The GameSoft.com platform allows gamers to create their own gaming space, a dashboard-like control center with all the content that matters to them. This can include online games, gaming news and reviews, their favorite YouTube channels, blogs and social media.
Creating a new gaming space takes only a few seconds. With hundreds of interactive web apps to choose from, the space can then be built upon and crafted into something that's completely unique to each gamer. To further personalize their space, gamers can apply themes, ranging from sci-fi and fantasy to car racing and all-out action scenes.
When asked what makes the GameSoft.com platform "revolutionary", its founder, Darren Bond explains, "With GameSoft we're giving the control of content into the hands of fellow gamers. They can build a gaming space that reflects their interests, with all the unnecessary white noise and media overload switched off."
Besides gaming content, web apps and social connectivity, GameSoft also has a selection of other interest channels including Tech, Sports, Music, Entertainment and News. This effectively provides gamers with a single destination for everything that's happening.
GameSoft is unique among gaming startups in that, rather than being a game developer, it's a platform for gamers with its own gaming blog that caters to a wide audience, from casual to hardcore gamers.
Bond adds, "Something was needed to connect with gamers' interactive and creative spirit, giving them the tools to make and curate their own home. That's what we believe we've done with GameSoft."
The GameSoft.com platform is designed to deliver across all devices so that gamers can access their gaming space from anywhere.
GameSoft launches in open beta with a hard launch slated for early 2016. New users can sign up for "Free forever" accounts now. To learn more about GameSoft and to sign up for a free user account, please visit http://www.gamesoft.com
END
###
Source:
The names of actual companies and products mentioned herein may be the trademarks of their respective owners.