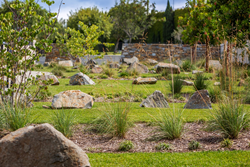 Commitment to the community and the environment.
Los Angeles, CA (PRWEB) November 10, 2015
A new option has been added at Hillside Memorial Park. Gan Eden is the first and only certified green burial area in Los Angeles; meeting the stringent criteria of the Green Burial Council.
Developed to serve the needs and desires of our diverse Southern California community, Green Burial in Gan Eden is performed without embalming the deceased, using a metal or non-biodegradable casket and interring directly back into the earth, without using concrete burial vaults. This practice allows for shroud burial as performed in Israel or with caskets certified as sustainable.
"With Jewish values rooted deeply in Tikkun Olam (repairing the world), Hillside takes our shared responsibility seriously and have long been committed to responsibly using natural resources. Green burial is yet another example of Hillside's commitment to the community and the environment," said Hillside Memorial Park's General Manager, Paul Goldstein.
In addition to Gan Eden, Hillside Mortuary is one of a select number of funeral homes to receive a "three leaf rating" for providing Green Funeral service and is available to families choosing any Southern California cemetery.
As environmental consciousness continues to rise, many people choose to consider ecological values in addition to religious values in making their end of life arrangements.
For 75 years, Hillside Memorial Park and Mortuary has provided members of the Jewish and Inter-Faith community the means to honor and remember their loved ones in beauty, tranquility and the comfort of Jewish traditions, while at the same time adapting to the choices of our community.