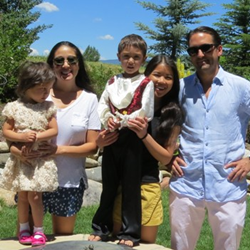 The best part of being an Au Pair, is to be with my host kids
Salt Lake City, UT (PRWEB) August 11, 2015
To travel halfway across the world and live with a family that speaks a different language, drives on the wrong side of the road, and eats weird cheese: what would that family look like? Au Pairs with Go Au Pair sent in 40 plus nomination essays to explain what a year looks like when you are living with the best Host Family in the United States. The votes were cast and first place was the Gentry family from Aspen, Colorado. The runner-ups are the Lemoine family of Dallas, Texas and the Alexander family from Commerce, Colorado.
The Alexander's brought in Danielle Oliphant from South Africa and in her nomination she wrote, "I feel so apart of their family. My host parents take extra care of me and fulfill my every need, just like how my parents would back home. My American Dream could not have come true if it wasn't for my special host parents."
When a Host Family can make a home so far away from home, expats are sure to return to their home having accomplished the U.S. State Department's mission to foster international relationships and better prepare the Au Pair to contribute back in their home country.
The choice to participate in the program doesn't always come easy. Au Pairs and the families often have a fair share of apprehension about if they have chosen the right family or Au Pair. It is clear to see, however; that many of the matches really turn out well. In the winning nomination Au Pair Fulan Li said, "Life with my host family is full of countless happiness and endless love." Fulan Li has lived in the country for two years and is about to return home to China. "Every day we spent together has been seared in my memory, and I will always remember all the wonderful moments we had shared together."
Not only does the cultural exchange prepare the Au Pairs for their future back home, but the love they have for the family stays with them for a lifetime. Above all, the relationships with the host kids are at the heart of an Au Pair's experience.
Fulan Li said, "The best part of being an Au Pair, is to be with my host kids. They are very precious children. In the past two years, I watched them growing day by day and we were getting closer and closer. I still can't believe time has gone so fast. I enjoy all the time being with them. I will always remember they are telling me 'I love you' all the time. I will always remember their beautiful smiles."
Go Au Pair is one of the original Au Pair Program sponsors designated by the department of State in 1989. There are Go Au Pair representatives in over 50 countries on six different continents and in more than 100 American cities. Their company headquarters is in Salt Lake City, Utah.