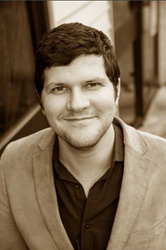 "It feels great. Recognition is good, but what's really meaningful is to be able to achieve the goal I set for myself"
San Antonio, TX (PRWEB) December 22, 2015
On Dec. 14, San Antonio resident Gonzalo Treviño became the first sales representative in Cutco Cutlery's 65-year history to sell $1 million of merchandise in a single year. Treviño is a Vector Marketing sales representative in the Lone Star Division, the sales arm of Cutco. His Dec. 14 total of $1,005,072 beat John Ruhlin's previous record—set in 2014—for highest yearly Cutco sales by nearly $300,000. Treviño, 28, also broke company monthly sales records for seven months in a row in 2015. In April alone, he sold $125,482.
"Gonzalo's consistent and non-stop work ethic is the best I have ever seen in Vector," said Vector Marketing Lone Star Division Manager Stacy Campbell. "Gonzalo set a goal, was objective-driven, and worked passionately to hit that goal. He broke through the ceiling for others to follow."
Treviño lives in San Antonio but grew up in the border town of Matamoros, Mexico. Treviño started working with Vector Marketing in 2008, when he sold Cutco knives for a summer. After taking a few years off to pursue other business ventures, Treviño resumed selling Cutco knives in 2012. He sold some $100,000 in his first year of full-time sales. He's seen his sales totals increase every year since, and now employs a team of four assistants.
Treviño says the secret to his success has been to work harder and smarter every year. Working as a sales representative for Vector Marketing allows him a flexible schedule and a business run on his own terms, he says. And that's just as important as any accolade.
"It feels great. Recognition is good, but what's really meaningful is to be able to achieve the goal I set for myself," Treviño said. "It makes me feel like I can accomplish anything."
About Vector Marketing:
Vector Marketing is the marketing and sales arm of Cutco Cutlery, a 65-year-old company with headquarters and manufacturing facilities in Olean, New York. Vector sells Cutco products through a national team of sales representatives primarily consisting of motivated college students who are trained to do in-home and virtual demonstrations on a pre-set basis. Vector Marketing has over 200 locations nationwide and works with students of all majors with any levels of professional experience.