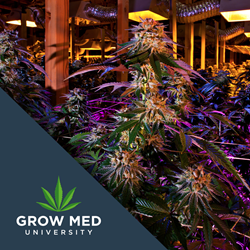 The reason I created Grow Med University was for that young grower in me. So I could save that 23 year old kid from all the setbacks and failures he'd go on to experience. Even though I know failing was good for me, it was tough. - Michael Straumietis
(PRWEB) May 31, 2015
Grow Med University (GMU) is a free, self-directed online hydroponics course that enables growers to progress at their own pace and dip into the rich treasure chest of videos, white papers, efficacy reports, and both scientific and other informative articles, to hone their skills as growers and help them produce their best harvest yet!
The medical marijuana industry is growing every minute. Legal marijuana is the fastest-growing industry in the U.S. and a slew of other businesses are jumping on the bandwagon as well. At present, 23 US States allow medical marijuana use, while 7 have legislation pending to issue licenses for it. 4 states and Washington, DC have legalized cannabis outright, while another California referendum in 2016 will allow recreational use in a state that was the first to permit medical marijuana use way back in 1996. It is estimated that medical marijuana is already a multibillion-dollar industry, without counting recreational sales.
While a great deal of information and misinformation appears daily on the internet, novice and more advanced growers alike are always looking for a source of reliable information, which can serve to improve their yields, both in terms of quality and quantity. A whole community of growers inhabit the growers forums and are always looking to perfect their growing skills.
GMU is very important to the growers community as well as to the medical marijuana industry, since by elevating the level of their knowledge, it is greatly helping to raise the quality of all the strains that are planted to produce the medicine, which is responsible for the miraculous healing of children with epilepsy, as well as adults suffering from the effects of chemotherapy, chronic pain, and glaucoma. Thousands of YouTube videos help document the impressive results of therapeutic cannabis use.
Grow Med University is a course representing the cumulative experience of scores of experts. From day one, it was envisioned as a community driven resource, providing much needed knowledge to the medical marijuana community. If you have a passion for hydroponics and growing medicine to help patients get rid of illness and pain, then Grow Med University is for you. Find out more about the project at http://www.GrowMedUniversity.com and join our community today!