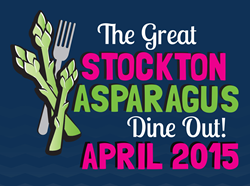 You haven't tasted fresh asparagus until you have had the world's best asparagus grown right here in San Joaquin County! - Wes Rhea, CEO, Visit Stockton
(PRWEB) March 20, 2015
The Great Stockton Asparagus Dine Out (GSADO) is back for its 6th year and set to span the entire month of April! Locally grown asparagus will be showcased at participating restaurants throughout Stockton as they creatively prepare and serve our favorite spear in a variety of dishes, drinks, and desserts. Over 30 restaurants are expected to participate.
"The Great Stockton Asparagus Dine Out was created by Visit Stockton, following the success of Stockton Restaurant Week, to showcase locally grown asparagus and its use in local cuisine," noted Wes Rhea, CEO of Visit Stockton. "The trend of focusing on local cuisine that utilizes locally grown and sourced ingredients is growing nationwide. GSADO (pronounced "ja-saw-doh") is here to remind Stocktonians of the rich bounty of local asparagus available fresh from the field, only during this time of year. Look for our famous locally grown spear, which will be featured in appetizers, entrées, desserts, and drinks at participating restaurants throughout Stockton!"
Some featured dishes this year: Asparagus Bisque (made by Delta Bistro with the official Stockton Asparagus Festival recipe), Asparagus Blossom Roll, Asparagus Ravioli, Asparagus Bruschetta, Asparagus Flatbread Pizza, Asparagus Prosciutto Pasta, Chicken & Asparagus Bialys, French Fried Asparagus, Asparagus Enchiladas, Asparagus Pizza, Heirloom Asparagus Salad, Asparagus Dirty Martini, Asparagus Margarita, Asparagus Mushroom Risotto, Asparagus Churro, Asparagus Lumpia, and more!
Participating Restaurants as of 3/16/15:
Angelina's Spaghetti House, AVE on the Mile, Bagel Express, BJ's Restaurant & Brewhouse, Bud's Seafood Grille, Canal Street Sports Bar & Grill at the Hilton Stockton, Casa Flores-Downtown, Casa Flores-Marina Center, Centrale Kitchen & Bar, Ciao Bella Italian Cuisine, David's Pizza, De Vega Brothers, Delta Bistro at University Plaza Waterfront Hotel, French 25, Kyodai, La Palma, Lincoln Cellar, Louie's Chinese Restaurant, Macaronage Macarons, Masa Contemporary Japanese Lounge, Mezzo Enoteca, Midgley's Public House, Midtown Creperie, Mile Wine Company, Misaki Sushi & Bar, Papapavlo's Bistro & Bar, Red Orchids Restaurant, Seoul Soon Dubu, Squeeze Burger, The Shadows Steakhouse, Valley Brewing Company, and more to come!
Discover the restaurants and their menus at dineoutstockton.com!
---------------------
Visit Stockton coordinates the Great Stockton Asparagus Dine Out annually, along with Stockton Restaurant Week in January and Stockton Beer Week scheduled for July 17-26, 2015.
For general information about the Great Stockton Asparagus Dine Out, please contact Megan Ott at 209.938.1557 or meg(at)visitstockton(dot)org.