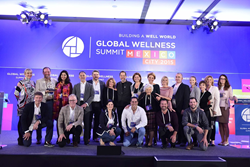 Atlanta, GA (PRWEB) December 16, 2015
This year marks the first time the Global Wellness Summit has awarded Leadership in Sustainability to an association. "It is very encouraging to have the topic of sustainability accepted on the Global Wellness stage as an integral facet of the Summit's aim to build a well world." Said Paul Schmidt, Executive Director for the Green Spa Network. "The international interest in the work of our grass roots organization has been remarkable this year and I'm looking forward to deeper collaboration and discovering new ways to embrace the promise of abundance that sustainability represents."
The leading association dedicated to sustainability through spas enjoyed strong representation at this year's Global Wellness Summit with over 49 Green Spa Network members and sponsors attending among the 470+ delegates at the ninth and largest Summit yet.
"It is an honor to be recognized by such an esteemed organization as the GWS and it is a tribute to Green Spa Network's ongoing dedication and commitment to making a difference in our industry for the sustainability and vital well-being of people and planet." Said GSN Founder, Board Member, and President Tara Spa Therapies, Tara Grodjesk
Throughout the event, sustainability issues were touched on by many of the Summit's keynotes and breakout experts including; Dr. Deepak Chopra, Pioneer of Alternative Medicine & Author; Founder, The Chopra Foundation, U.S; Thomas Gubanc, Senior Director, Cleveland Clinic, U.S.; Dr. Karen Koffler, Medical Director, Carillon Hotel and Spa, U.S.; Dr. Paul Limburg, Medical Director, Office of Wellness, Mayo Clinic, U.S.; Dr. Adam Perlman, Associate VP, Duke Health & Wellness; Executive Director, Duke Integrative Medicine, U.S.; Dr. Juliet Skinner, Co-founder & Medical Director, Barbados Fertility Centre, Barbados; Josef Woodman, CEO, Patients Beyond Borders, U.S.; Agapi Stassinopoulos, Author and Speaker, Unbinding the Heart, U.S. and others.
"During the Summit we experienced time and again that the issues surrounding personal wellness, and towards creating wellness communities, workplace wellness, and a consciousness of wellness are rooted in some deeper understandings of Nature and how we interact with it." Said GSN Board Member and Managing Partner and Co-Founder, Satteva Spa and Wellness Concepts. "GSN is working to reinforce these deep connections, and to develop ways to embrace and affect the wider wellness perspective, and the Sustainability award was an acknowledgment of that commitment."
About Green Spa Network:
GSN is a not-for-profit trade association dedicated to promoting sustainability in and through the spa and wellness industry. Their mission is to promote the vital connections between personal well-being, economic sustainability and the health of our planet. Through networking, education, and best practices developed with its membership of the nation's most innovative green spas, GSN is setting the standard for social and environmental sustainability in the industry. For more information, visit http://www.greenspanetwork.org.
Contact: Jessica Gilden | Business Manager | 800-275-3045 | jessica(at)greenspanetwork(dot)org