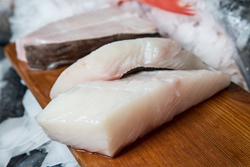 Halibut's mild, buttery flavor and flaky texture make it a popular dinner entrée. Halibut fillet is great baked or broiled. First catch of the season now available.
Seattle, WA (PRWEB) March 18, 2015
Fresh Alaskan Halibut first catch of the season is now available at Seattle's Pure Food Fish Market, a fourth generation, family-owned specialty seafood shop, first established at Pike Place Market in 1911. Fresh Halibut will be available through November 2015 for in-person pick-up at the shop counter, or customers can choose to order online at FreshSeafood.com and have their products delivered by FedEx. Pure Food Fish Market offers overnight shipping anywhere in the United States; for those shipping to the greater Seattle area, same-day shipping is newly available.
Pure Food Fish Market sells premium fresh seafood, specializing in seafood of the Northwest, including fresh King Salmon, jumbo King and Dungeness Crab, as well as fresh Halibut. Every fresh seafood order is custom cut and packed there at the market at the time of purchase, and overnight shipments are packaged with gel-ice to ensure freshness upon delivery.
Alaskan Halibut is adored around the world for its white flakey meat; it has a delicious, mild flavor and is easy to prepare baked or broiled. Pure Food Fish Market offers whole Halibut, fillets, steaks and cheeks while supplies last.
All of Pure Food Fish Market's fresh Halibut is strictly fresh (never frozen) and custom cut to order – special online-only pricing below:
Fresh, Wild Whole Halibut
Kosher and wild caught. Order 11-20lbs fish as fillet or steak. Starting at $15.99 /lb depending on total weight of fish.
Fresh, Wild Alaskan Halibut Cheeks
Halibut cheeks are the most tender, most flavorful part of the fish. Pricing and availability vary based on if the fish are biting. Call for availability and pricing.
Fresh, Wild Alaskan Halibut Fillet
Halibut is loved around the globe by seafood connoisseurs. Its mild flavor and wonderful, flaky texture make Halibut possibly the most popular dinner entrée in the world.
$24.50 /lb
Fresh, Wild Alaskan Halibut Steaks
Halibut steaks are great baked or broiled, but try them on the grill. The added smoky flavor makes this great fish irresistible!
$18.50 /lb
Learn more: FreshSeafood.com
Seafood Specials: freshseafood.com/mailing-list.html
Facebook: Facebook.com/PureFoodFishMarket
Twitter: @PureFoodFish
Hashtag: #PureFoodTalk
About Pure Food Fish Market:
Pure Food Fish Market is located in the heart of downtown Seattle in the famous Pike Place Public Market. Anyone who has visited Washington State knows that Seattle is the place for seafood. Tourists and locals alike come to the Pike Place Public Market to buy fresh seafood from the Pure Food Fish Market, Seattle's most popular seafood retailer. Our family has been down at the market for four generations stocking an abundant assortment of delicious seafood from around the world but specializing in the fresh seafood from the Pacific Northwest.
# # #