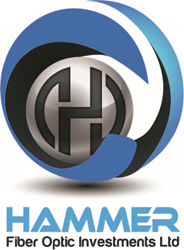 The Airbox USA platform overcomes the challenges that current generation access networks experience
Point Pleasant Beach, NJ (PRWEB) December 07, 2015
New Jersey will soon have a viable alternative to current Internet, Cable, and Phone providers. Hammer Fiber Optic Investments, a New Jersey licensed Competitive Local Exchange Carrier, announced today that they have entered into an agreement with AirboxUSA to utilize their proprietary technology in the New Jersey market. This agreement will allow Hammer Fiber to deliver high speed internet, voice and video content over a wireless network to New Jersey homes and businesses, employing under-utilized frequencies in the FCC regulated spectrum.
"Hammer Fiber is excited to be the first company to deploy this technology in the US market," states Mark Stogdill, President and CEO of Hammer Fiber Optic Investments, "The AirboxUSA platform overcomes the challenges that current generation access networks experience by eliminating high construction costs and protracted install times typically seen in the last mile, while offering the highest possible quality of connection." With the advent of this technology Hammer Fiber will be able to offer an alternative to the incumbent providers throughout the state. Now, that the agreement is in place, Hammer Fiber expects to move forward with the deployment of the technology, allowing for the implementation of service to customers beginning in the first quarter of 2016. After an initial test market is established, and implemented, Hammer Fiber further intends an aggressive roll out of service throughout New Jersey.
The technology will permit Hammer Fiber to deliver high speed broadband, feature rich telephone service, and high quality television content to homes and business in areas where competition between providers may have been limited, allowing consumers a choice for their service provider. The AirboxUSA technology has the ability to deliver more than 400 megabits of data per second per subscriber, with the ability to handle thousands of customers in any given service area, even when considering the expected demands on bandwidth in the future.
About Hammer Fiber
Hammer Fiber Optic Investments Ltd., dba Hammer Fiber, is a registered Competitive Local Exchange Carrier in New Jersey and an ARIN registered Internet Service Provider. For more information go to http://www.hammerfiber.com or call (732)333-3808.
About AirboxUSA
AirboxUSA, LLC was established to fill a void in the underserved high capacity broadband market of the United States, utilizing technology infrastructure which has already been successfully deployed in eight countries around the world.