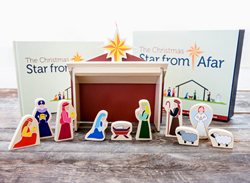 An elf tradition is not a fit for every family
Oakland, CA (PRWEB) November 02, 2015
Christmas is a spiritual time to focus on selfless love and giving to others. However, the holidays have become more about presents and wish lists and less about why we celebrate Christmas. The Christmas Star from Afar was created as a game that would celebrate the true meaning of Christmas and offer a new tradition for families. The Christmas Star from Afar is available online or in specialty retailers for just $34.95 (plus shipping online). This artistic and lovingly created game, by founder Natalie Ard, is the product of a mom who wanted to solve a holiday dilemma for her family with the hopes of bringing more focus to the true meaning of Christmas to their home each year. For more information please, visit http://www.StarFromAfar.com.
Natalie Ard developed the game while searching for a fun advent activity her family could enjoy each year that would bring the focus back to the reason for the holiday. The Star symbolizes not only the guide and hope of the Three Wise Men, but it also represents the Light of the World. The Christmas Star from Afar takes the concept of a daily advent activity and blends it beautifully with an artfully inspired game that becomes a centerpiece of a family's traditional holiday décor.
"We had tried other popular Christmas traditions but found that they were not a fit for our family. I decided to create something for them that was just as playful and interactive but was more focused on the reason for Christmas," explained Ard, creator and founder of The Christmas Star from Afar. "We have blended the hide and seek fun similar to that of the Elf traditions with beautiful and durable pieces that allow for creativity in how you play the game and celebrate the holiday season."
The Christmas Star from Afar encourages children to go on a hunt for their Star, similar to that of the Wise Men. Every day the Star is hidden and the children participate in a fun hide-and-seek game to locate it. Once they have found their Star they move all Three Wise Men to its location. On Christmas morning the Three Wise Men reach their final destination when the Star is found at the stable with the newborn baby Jesus. The game includes a hard cover book, a wooden Star, a full wooden Nativity scene that matches the artwork of the book, and optional scripture to use throughout the month.
"I love watching my children look high and low for their Star every morning, hearing their squeals of excitement when the first child has spotted it, and knowing they are being reminded daily of Jesus' birth," added Ard. "This Christmas activity has given me a chance to show my children that Christmas is not about the presents they receive, or Santa, or snowmen. Christmas is about the greatest gift of all – our gift of Hope and Love."