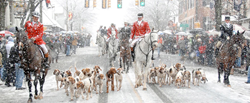 Holiday Food and Fun in the Shenandoah Valley
Winchester, Virginia (PRWEB) November 24, 2015
Christmas can either be the biggest commercial event one experiences or it can be one of the most unique holidays of the year. Nancy Craun, owner of Go Blue Ridge Travel (GoBRT) explored the Holiday events that capture the 'Spirit of Christmas' in the Shenandoah Valley of Virginia, West Virginia, and Maryland where culture and heritage are rich. "The cultural diversity one finds in the valley can give an overview of the world without leaving the USA," said Craun. "I love the parades in our region which truly capture each town's aura. Depending on the culture of the town, Santa arrives on a sleigh, a horse, a tractor, or a fire truck adding to the excitement."
Here are GoBRT Ten Top Events for Christmas 2015:
#1 - Middleburg, Virginia - Christmas Parade Middleburg VA
What is most unique and sets the Middleburg parade apart are the horses and hounds and red coat riders. Located in the heart of Virginia horse country, each year the Middleburg Hunt has over 100 horses and hounds in the mile long parade. Festivities are thru out the day. This parade is on December 5th.
#2 Leesburg, Virginia - Christmas at Oatlands
Just down the road on Route 15 between Route 7 and Route 50 is Oatlands Historic House and Gardens. With Wreath Making Workshop, Ginger Bread House Contest, and Candlelight Tours, one can experience Christmas past in the countryside of the grand south. Offering a Children's Theater play - "Stand Up for Santa", performances are available December 18, 19, 20. 21st. Oatlands showcases an Art Show thru December 30th.
#3 Winchester, Virginia - Holiday Candlelight Tour by Preservation of Historic Winchester
A tradition in many towns, the main tour is on December 6th and let you enjoy historic homes in the center of Winchester. The Bough and Dough shop is open concurrently featuring greenery, wreaths, and local artisan crafts at Winchester Little Theater.
#4 Shenandoah County, Virginia -
Starting Thursday, December 3 thru the 6th, each town along Route 11 in Shenandoah County holds it's Christmas parades and other festivities. Home of the largest artisan trail, one can visit five potters on the Holiday Open Studio Tour along the O Shenandoah County Artisan Trail.
#5 Kernstown Battlefield, Virginia - Follow the Star
One of the newest experiences for the Shenandoah Valley is "Follow the Star." Ever dreamed about what it would have been like to have been there that night when Jesus was born? Follow the Star is a live production of Fellowship Bible Church on December 5th and 6th at the Kernstown Battlefield. Join the actors as one steps back over the threshold of time, 2000 years ago. Let the presence of live animals, the crisp winter air, the outdoor barns, live drama and music take one back to the night Christ was born...the night God became Man. There are seven scenes and then finish the evening with a time of Christmas caroling and refreshments.
#6 Winchester, Virginia - Christmas Movie Celebration
If one is a movie follower, then The Alamo Drafthouse's Holiday Movie Series will be a must experience Christmas event.
"Each year, we kick off our holiday programming at the Alamo Drafthouse Cinema in Winchester with The Polar Express. Originally screened based on customer requests, the film now plays for nearly two weeks each year to packed houses. We encourage our guests to wear pajamas, and we have a live conductor at every show. With optional treats like holiday cookies, hot chocolate and coloring pages, The Polar Express draws several thousand viewers every year and is the single biggest annual event at the Alamo," said Steve Nerangis, owner of The Alamo Drafthouse - Winchester
#7 Basye, Virginia- Bryce Resort
Love a guaranteed snowy experience, travel to Bryce Resort for a winter wonderland of skiing and holiday Fun. Enjoy the 17th Annual Santa Golf Tournament to benefit Toys for Tots. Take a spectacular lit by torches ski down the slopes on New Years Eve.
#8 Frederick County, Virginia - Walking in a Winter Wonderland
One will be delighted by this light show that lets one see fantastic displays and music along the paved path at Clearbrook Park. Warm up with some hot-chocolate and cookies, or in the cabin where Santa and Mrs. Claus welcome kids of all ages. Opens November 27th to January 3rd from 5:30 - 9 pm.
#9 Shepherdstown, West Virginia - Christmas in Shepherdstown
Being a small German town rich in history and heritage, the town has all the typical activities of the past such as chestnuts roasting, carriage rides thru the town, a parade and the lighting of the tree. A month long celebration with something happening each weekend, the season kicks off on November 27th with the arrival of Santa and the Grinch. Anyone who has experienced Shepherdstown knows the town's parades are informal small town fun.
#10 - Sharpsburg, Maryland - Christmas Memorial Illumination
On Saturday evening December 5th, Antietam National Battlefield, in cooperation with the American Business Women's Association and the Washington County Convention and Visitors' Bureau, will host the Annual Antietam National Battlefield Memorial Illumination in honor of those soldiers who fell during the Battle of Antietam. A must see Go Blue Ridge Travel Bucket List experience for every adult and child. Over 23,000 luminaries for each soldier who died at this battle. This is a 5-mile driving tour and will stay in one's memory for a lifetime.
Have 48 hours to spend, any of these events or combination of will make a great road trip to the Shenandoah Valley in December. Don't forget Shenandoah Valley Ski Resorts are now open! Check out GoBRT's accommodations from resorts, bed and breakfast, cabins, vacation rentals and hotels.
About GoBlueRidgeTravel.com
Launched in December 2011, Go Blue Ridge Travel (GoBRT) is an e-commerce marketing company using digital internet channels to both create a travel ecosystem community for the northern Piedmont and Shenandoah Valley of VA, WV, and MD. In 2014, the Kids Trail was launched to promote multi-generational family travel.
Founded and owned by Nancy Craun who grew up in the area and has 30 years of experience in the event planning, restaurant, hotel, and marketing arenas. GoBRT covers 160 plus mile radius of the Interstate 81 Corridor spanning the states of Virginia, West Virginia, and Maryland.
Contact: Nancy Craun Founder and President GoBlueRidgeTravel.com and ShenandoahValleyKidsTrail.com Phone: 540.533.1853 Email: info(at)GoBlueRidgeTravel(dot)com