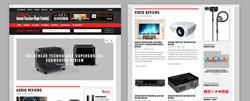 We have seen a significant increase in readers who are considering options to upgrade their audio and home theater systems, and we are finding that there is much more interest in quality audio systems than we thought a few years back
Redwood City, CA (PRWEB) October 14, 2015
SECRETS of Home Theater launched their latest website design catering to the Audio and Video enthusiast.
The updated SECRETS website (http://hometheaterhifi.com) continues to provide thoughtful and unbiased product reviews, now mobile and tablet friendly. The new SECRETS site offers our readers the same in-depth reviews and features with enhanced imagery, easily navigated from any device. Sponsor advertisers now have many more options to deliver targeted advertising throughout the site.
The new SECRETS site is designed to bring tremendous value to our readers and sponsors. "We have seen a significant increase in readers who are considering options to upgrade their audio and home theater systems, and we are finding that there is much more interest in quality audio systems than we thought a few years back," said John Johnson, Editor in Chief. "We expect an increase in readership and active sponsors to take advantage of the user friendly SECRETS website."
The increase in attendees and exhibitors at the A/V shows, so far in 2015, including CES, AXPONA, RMAF and regional shows is a demonstration of increased serious interest in A/V products and we are expecting CEDIA 2015 to experience the same level of interest. Consequently, there is tremendous demand for honest and technical reviews of the many product offerings. SECRETS is positioned to conduct these reviews on a timely basis and deliver the reviews to the reader on any device.
Our SECRETS Team of Senior Editors and Reviewers brings outstanding credentials to every review, many with technical analytics. We are focused on providing the best in-depth and unbiased reviews possible, based on using the product.