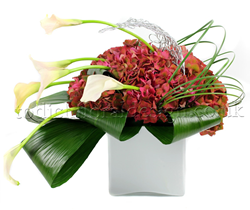 (PRWEB UK) 17 June 2015
London Florist Todich Floral Design, unveils its latest decor trends for summer 2015, a superb floral range of hotels. Its diverse collection of hotel flowers, both sophisticated and intriguing; are designed, which take inspiration from enchanting country gardens and beautifully sculptured geometries.
Todich Floral Design steps into the new summer season with its hotel décor collection, show stopping corporate flower displays, with exquisite blooms. Whether it's a preference for the spectacular floral centrepieces or a liking for geometric, flowers infuse a space with fashionable personality. Made up of the latest décor trends, the London florist new business flowers range; an exquisite collection of indoor flowers, befitting flowers for bars and restaurants, are simply delightful.
The London based florist latest décor trends, explodes in an array of colours, rich textures and lavish designs. In keeping with on-trend shades from 2015's Floral Colour Palette, the global colour authority, Todich Floral Design new corporate flower collection, works with, traditional vintage pastel shades and blended with, sumptuous contrasting tones, to create spectacular floral centerpieces. From artisan arrangements to distinct containers, the florist's talented designers deliver show, stopping at, implementing on-trend, seasonal designs, that add drama and pure luxury. Perfectly suited to corporate events, its delightful line-up displays:
Tulips
These exquisite seasonal flowers, are at their best in spring and summer and not short in supply. Available in sumptuous pastel shades, these delightful blooms, compliment nature beautifully, injecting a burst of colour to hotel flower arrangements. Its elegant form also adds, grace and sophistication to floral designs.
Roses
Roses form an instant impression and make spectacular centrepieces for hotels interiors. A symbol of love and romance, the London florists' rose arrangements, which come in an array of soft pastels and vibrant contrasting shades, adds a touch of elegance and instantly transform indoor spaces. The florist's vintage classic, make fitting flowers for hotels.
Lilac
Lilac's tiny, delicate clustered flower heads and delightful scent make perfect hotel flowers. Lilac signify, 'first emotions of love.' Available in rich purple hues to sumptuous pinks, and whites, Todich Floral Design's exquisite lilacs flowers, bring elegance to floral arrangements, and add a touch of romance to corporate flower designs.
Hydrangea
Lilac's tiny, delicate clustered flower heads and delightful scent make perfect hotel flowers. Lilac signifies, 'first emotions of love.' Available in rich purple hues to sumptuous pinks, and whites, Todich Floral Design's exquisite lilac flowers, bring elegance to floral arrangements, and add a touch of romance to corporate flower designs.
Peony
The delicate red hues of the Peony flower represent joy and optimism, and are great for up-lighting business spaces. Its beautiful arrangements, incorporates natural seasonal elements and beautifully blends with enchanting forest green foliage, to add a fairy-tale-like charm to hotel décor.
Exotic flowers
Todich Floral Design's, vibrant and fragrant orchid blooms, add a fresh and contemporary feel to corporate spaces. The orchids simplistic and romantic designs, are minimalism and luxurious, instantly adding a touch of sophistication to hotel interiors. Its range of orchids, Strelitzia and curcuma flowers, create show-stopping centrepieces, to complete striking contemporary designs. Strelitzia's stand tall in pastel and contrasting shades, and make a statement, when combined with hydrangea, lilies, roses, delphinium and roses.
Budding beautifully
With natural brown branches and contrasting delicate buds, Todich Floral Designs flowering branches, include budding orchids, viburnum opulus, Freesias and flamboyant gladiolus. Presented in luxurious vessels, its hearty shrubs add character, are long lasting and perfectly delightful, whilst the florist's range of exotic Proteas, geometric designs, adds structure to create an architectural statement.
Foliage dreams
Beyond traditional flowers, Todich Floral Designs, spectacular seasonal foliage arrangements conjure up the beauties of nature to finish flower designs beautifully. Its collection of vibrant forest greens and spirited browns in floral arrangements, add elegance and vintage flair. The florist brings the outdoors in, to complete a natural aesthetic.
Lilies
Lilies represent the radiance of spring and summer beauties. Lilies one of the most popular flowers, its regale form, elegant pastel tones, classic white shades and prominent blooms are delightful. Lilies add sophistication enhance floral arrangements, instantly up-lifting business spaces. Its fresh and airy appeal catches the eye instantly.
The floral boutiques irresistible blend of traditional and on trend followers, revive and refresh hotel interiors, whilst its architectural ceramics; clear cylinders, squared glass domes and grand vases, take these magnificent flowers to the next level, adding new dimensions to hotel spaces.
Todich Floral Design's business clients, can expect fresh, locally sourced flowers, free consultation, vases, styles and designs tailored to their needs. The florist also provides a free weekly trial, with weekend and out of hours delivery for London clients, at competitive prices.
About Todich Floral Design
The London based florist was founded by Todd Z. Todic over 17 years ago. Todich Floral Design in-house team, a rich collaboration of skilled designers and talented florists with a wealth of knowledge and expertise, join forces to deliver a range of on-trend flower designs, ideas and inspiration for hotel interiors, private events, bars, corporate spaces and bespoke wedding flowers.
All flowers are available in a spectrum of colours, Todich Floral Designs' array of styles, designs and arrangements, are creations tailored to the specific needs of each client. Arrangements include a spectrum of exquisite plants, natural foliage and spectacular flowers; roses, daisies, orchids, tulips, carnations amongst others, and a selection of exotic flowers, which instantly adds new dimensions to mundane spaces.
Todich Floral Design customers receive free delivery and installations for all events. The florist boasts seasonal flowers and is committed to running an Eco friendly business. All flowers are sourced from local florists, which comply with the company's strict quality controls. The London based florist, boasts an impressive portfolio, having constructed floral designs for, Café Royal, Dorchester Hotel, Mandarin Oriental Hotel, Grosvenor House and the National Gallery. Todich Floral Design accolades include best business for Customer Service Of The Year in 2011 by the Lambeth Business Awards.