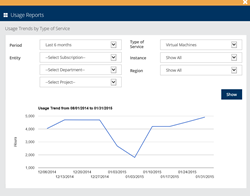 IGCM helps us stay on top of our cloud spend while we expand the usage of Azure.
(PRWEB) March 09, 2015
Infrastructure Guardian, a provider of cloud management as a service for public, private and hybrid cloud environments, today announced the public preview of its new Cloud Governance Portal for Azure. Users of a Microsoft Azure Enterprise Agreement (EA) can sign up for free at IGCM.com to start analyzing their Azure subscriptions for key insights into usage and billing trends.
The dashboard view lets EA customers easily see where dollars are being spent and quickly identify billing trends and usage over time. Administrators can create relevant charts and delegate views to department heads and project leads through an intuitive interface.
"Cloud solutions with Azure offer great opportunities to save money and create more flexible IT environments," said Brian Bourne, CEO of Infrastructure Guardian. "But as the number of your Azure subscriptions grows, administration of usage and billing data can get complex and create challenges. Our governance portal makes it easy to grow your cloud environment while keeping control over cost and usage."
Instead of exporting detailed usage spreadsheets with thousands of data rows from Microsoft's Azure portal, EA customers can log into the IGCM Azure Cloud Governance Portal to get quick views and meaningful trend insights for cost control and capacity planning.
"IGCM helps us stay on top of our cloud spend while we expand the usage of Azure," said Jeff Dunmall, CEO at imason. "Whenever we start a new project or add a new Azure subscription now, we know that we don't need to worry about a billing surprise or other governance issues."
"Organizations moving to the cloud want to be able to effectively manage their spend, while IT wants to provide the business show-back (or charge back) of cloud costs," said David Senf, Vice President, Infrastructure Solutions Group, at IDC Canada. "As cloud adoption accelerates in North America, almost doubling in size from just under $40 billion today to $79 billion by 2018, visibility into financial and usage metrics will be a critical success factor."
Using the IGCM Portal to control and mange subscriptions allows EA owners to slice and dice Azure usage based on logical groupings and accounting needs. EA customers can also monitor per resource usage thresholds or for anomalous changes in usage to get peace of mind that unexpected usage bills will be prevented, and problems that otherwise may go unnoticed until the next billing cycle can be contained quickly.
Key Capabilities - IGCM Azure Cloud Governance Portal

Easily see where dollars are being spent: by project, department or cost centers
Track billing and usage trends over time
Delegate views to department heads and project leads
Optionally engage with and track managed services such as monitoring, patching and remediation
Azure EA customers can go to http://www.IGCM.com today to sign up for free by simply logging with a Live ID and Azure billing API key.
About Infrastructure Guardian
Infrastructure Guardian (IG) provides governance, operations and advisory services for public, private and hybrid cloud environments. The IGCM Cloud Governance Portal for Microsoft Azure makes it easy for enterprise IT organizations to govern their cloud spend and usage. IG also offers an award-winning managed service for health and performance monitoring of IT infrastructure across data centers, end-points and the cloud. Infrastructure Guardian services can be hosted in our clients' data centers or the cloud, 24 hours a day, 7 days a week. For more information, please visit http://www.InfrastructureGuardian.com.