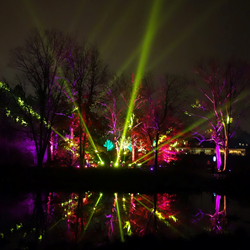 With new experiences and enhancements to our most popular elements, Illumination offers surprises for both new and returning visitors.
Lisle, Illinois (PRWEB) November 20, 2015
Illumination: Tree Lights at The Morton Arboretum opens today with more lights, sights and sounds that will transform a Chicago-area wintertime walk in the woods into a colorful, inspiring experience like no other.
Through January 2, 2016, visitors are invited to walk Illumination's one-mile path, surrounded by 50 acres of woodlands bathed in theatrical LED lighting in shades of vivid electric blue, hot pink and neon green. Along the way, a series of "experiences"—programmed lighting, video and sound seamlessly integrated into the landscape—encourage visitors to see trees in a different light. Visitors can interact with trees that respond to voice or touch, find out how a tree reacts to a big hug, or control the action of larger-than-life images projected upon the Arboretum's towering trees.
"With cutting-edge lighting and sound, Illumination not only amplifies the unique beauty of trees in the wintertime, it also offers visitors of all ages the unique opportunity to interact with the trees around them," said Sue Wagner, vice president of education and information at The Morton Arboretum. "Last year, visitors came from every corner of the country to see the magic of Illumination. With new experiences and enhancements to our most popular elements, the 2015 season offers surprises for both new and returning visitors."
2015: New Experiences, More Lights, More Music
New experiences in 2015 include Meadow Lake Magic, dazzling lights that create the illusion of skipping stones on Meadow Lake, an all new Garden of Light, where music and light come together to energize the Arboretum's historic hedge collection, and a new take on Symphony Woods, where visitors can watch lights appear to dance to the music of the beloved Nutcracker Suite.
In addition to these new experiences, other 2015 highlights include an all-new Tinsel Harmony, where families or groups can sing together and watch lights glow and move to the sound of their voices and Ornament Hill, a new display flanking the Frost Hill walk featuring giant lit orbs and a carpet of thousands of sparkling points of light.
Many other fan-favorite Illumination experiences will be updated for the 2015 season, including Hug a Tree, where visitors can hug a tree and watch it respond, Crystal Promenade, where 24 beautiful chandeliers of varying sizes light the forest, and Seasons Greetings, where visitors control the movements of a projected image using towering hemlock trees as a giant movie screen.
To purchase tickets, or for more information about Illumination: Tree Lights at The Morton Arboretum, visit mortonarb.org/illumination.
Event Dates and Ticket Prices
Illumination runs through Jan. 2, 2016. The event opens each night at 5 p.m. and runs until 9:30 p.m., with the last entry at 8:30 p.m. Tickets are available at mortonarb.org, the Arboretum's Visitor Services desk, or by calling 630-725-2066 ($5 handling charge for phone orders). Advance reservations are highly encouraged as some nights may sell out. See mortonarb.org for updated information on dates and pricing, and follow The Morton Arboretum on Facebook and Twitter for the latest event information.
The Morton Arboretum thanks PowerShares QQQ, Illumination Premier Sponsor, and ComEd, Illumination Presenting Sponsor, for their support of the 2015 event.
About Illumination: Tree Lights at The Morton Arboretum
Illumination: Tree Lights at The Morton Arboretum brings light and nature together for a wintertime walk in the woods like no other. Illumination invites visitors to see trees in a different light on a one-mile walk surrounded by 50 acres of the Arboretum's trees, brought to life with LED lights, interactive elements and sound. Live entertainment and warming stations add to the wintertime experience. Featured in local and national media including Condé Nast Traveler and USA Today, Illumination has quickly become a winter tradition, welcoming more than 210,000 visitors from 40 states since its 2013 debut season. The event is built in partnership with noted experiential lighting designers Lightswitch, and features energy-efficient, eco-friendly LED lighting.
About The Morton Arboretum
Established in 1922, The Morton Arboretum is an internationally recognized outdoor tree museum and tree research center located in Lisle, Illinois. As the champion of trees, The Arboretum is committed to scientifically informed action, both locally and globally, and encouraging the planting and conservation of trees for a greener, healthier, more beautiful world. On 1,700 acres are 220,000 plant specimens representing 4,100 different kinds of plants, along with specialty gardens, educational exhibits, the award-winning Children's Garden, 16 miles of hiking trails and the Visitor Center, featuring The Arboretum Store and the Gingko Restaurant and Café. The Morton Arboretum is a not-for-profit 501(c)(3) charitable organization, welcoming more than 932,000 visitors and serving 39,250 member households in 2014. Learn more at mortonarb.org.