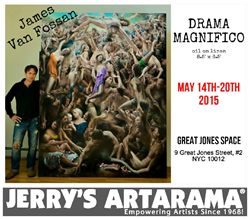 This is a once in a lifetime opportunity for serious art collectors and is the most important piece of art created in the 21st century
New York, NY (PRWEB) May 05, 2015
Jerry's Artarama, a national retailer of art supplies and materials headquartered in Raleigh, NC, is sponsoring a pop-up art show of Realism Paintings New York City. The exhibition is entitled Realism in the Raw and will showcase works by Colorado- based artist James Van Fossan and New York-based artists Brandon Soloff and Jennifer Gennari. The show will open with a reception on Thursday, May 14 from 6pm – 10pm. An additional public reception will be held Saturday, May 16 from 6 to 10pm. The Exhibition will take place at 9 Great Jones Street in New York City. Complimentary wine and cheese will be served to all the guests attending.
Making a grand debut will be the work by James Van Fossan, entitled, Drama Magnifico. This 8 ft tall by 6 ft wide oil painting modern-day masterpiece took 4,000 hours over three years to complete. The work will be debuted with an original score written and performed by the Van Fossan himself.
Realism in the Raw will exhibit the works of Brandon Soloff, a classically trained painter and portraitist, and Jennifer Gennari, a classically trained Figurative artist. Both Soloff and Gennari's works have been commissioned and exhibited throughout the United States and Europe.
For more information on the pop-up art show visit: http://www.japop-upgallery.com
Quotes:
"Work like Drama Magnifico comes along once in a generation and should be studied by everyone, as it is so perceptive of the drama in our lives. This is a once in a lifetime opportunity for serious art collectors and is the most important piece of art created in the 21st century," said David Goldstein, CEO of Jerry's Artarama.
"Realism in the Raw exposes the human condition in its gritty and unrestrained form," said Realism in the Raw director Samantha Velkoff. "From the moment you enter the exhibition, you are confronted with some of the most prolific works of art in contemporary realism."
Details:

JA Pop-up Gallery will present the sponsored art show entitled Realism in the Raw.
The event will be held at 9 Great Jones Street #2, NYC, 10012
The Show will be open to the public May 15 – 20 from 10am – 9pm
An opening reception will be held May 14 from 6pm – 10pm.
A public reception will be held May 16 from 6pm – 10pm.
All works in the exhibition will be available for sale.
NEW MEDIA CONTENT:
JA Pop-up gallery Facebook Page:
https://www.facebook.com/JApop.upGallery
JA Pop-up Gallery Website:
http://www.japop-upgallery.com/
ABOUT JA POP-UP GALLERY:
JA Pop-up Gallery was founded to provide artists opportunities to showcase their work through high-end gallery exhibitions.
ABOUT JERRY'S ARTARAMA:
Jerry's Artarama was founded in 1968 when Jerry Goldstein opened his own art supplies and materials store in Long Island, N.Y., introducing discount pricing to budding and established artists. Jerry believed in treating customers like family, a tradition that still continues. Today, Jerry's offers more than 70,000 top-quality art materials at direct savings – as much as 75 percent off traditional retail on products from the industry's top art manufacturers, as well as Jerry's own exclusive product lines via an online retail store, art supply catalog, and Jerry's Artarama Superstores. In addition, Jerry's Artarama serves as an artist resource by providing instructional workshops; new art supply demos; and special art-related events, including the Art of the Carolinas Tradeshow, an annual event held in Raleigh, N.C., Jerry's Artarama's corporate headquarters. For additional information, please visit http://www.jerrysartarama.com.