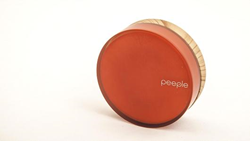 When caller ID for phones came along, people were skeptical that it would be useful, but think about it now. Would you buy a phone that didn't have caller ID? Of course not
(PRWEB) January 19, 2015
The next wave of home-based Internet of Things technology may be the smart door camera. Jason Hope and CNBC have commented on the Peeple, a new piece of technology that sends an image to the homeowner's smartphone when someone knocks at the door. With this addition to the Internet of Things lineup, the technology offers a new way to secure a home simply by knowing who is at the door.
In the article entitled "Internet of Things: Peeple Tells You Who's at the Door," Alexandra Gibbs of CNBC.com indicates that Peeple will use a small camera fixed onto the front door's peephole to capture images. According to the January 13 article, the system automatically captures an image of a visitor when they knock on the door, and then sends the image to the homeowner's smartphone utilizing the home's Wi-Fi connection.
"While it may not seem like this is a needed device at the outset," said Jason Hope, entrepreneur and tech expert from Arizona, "the potential applications go quite a bit farther than you might think. Imagine the busy mom who is in the middle of cooking dinner. Her neighbor knocks on the door. She sees the image and knows it is safe to send her child to answer the door, which she would not do with a stranger."
"What Peeple shows, to me, is the ability that the Internet of Things has to change the little aspects of daily life," Hope continued. "Sure, it may simply be an advanced doorbell of sorts, but it can make a big improvement for some homes, with a simple device. The more of these devices that hit the market, the more lasting change we will see in the modern home."
The article quotes Peeple's CEO and co-founder, Chris Chuter. "When caller ID for phones came along, people were skeptical that it would be useful, but think about it now. Would you buy a phone that didn't have caller ID? Of course not." He believes that, if executed properly, Peeple has the same potential.
The Peeple has not yet been priced, but it will be a fairly affordable "smart doorbell" option. The device will only need to be charged every six months. It will be a convenient; easy-to-install and helpful device that may have the potential to change the way people answer the door for good.
About Jason Hope
Jason Hope watches the changes the Internet of Things is bringing to retail shopping and day-to-day life from his home in Scottsdale, Arizona. He is a futurist and entrepreneur who believe that people have the power to change their lives for the better with the help of modern technology. Follow him at http://www.jasonhope.com.