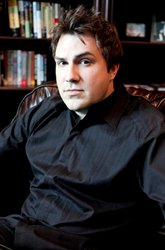 In the not-too-distant future, many, if not most, aspects of our everyday lives will be digitally observed and stored
(PRWEB) January 25, 2015
Security concerns are not new in Internet of Things discussions, but in 2015 the FTC will take a more active role in addressing these concerns, Pymnts.com reports. Jason Hope believes this change may make the Internet of Things more widely accepted, provided the FTC is able to address the security concerns facing many individuals and companies who are hesitating to embrace this technology.
According to a Pymnts.com article entitled "Internet of Things Privacy Climbs Up FTC Priority List," which was published January 8, federal officials have sounded alarms about security concerns relating to connected devices. FTC Chairwoman Edith Ramirez recently participated in the International CES trade show in Las Vegas, and the article quotes her concerns.
"In the not-too-distant future, many, if not most, aspects of our everyday lives will be digitally observed and stored," she said. According to Ramirez, many of the pieces of consumer data being collected and stored are quite personal in nature, leading to security concerns.
"Unfortunately," said Jason Hope, futurist and entrepreneur with a vested interest in Internet of Things developments, "or fortunately depending on how you look at it, the FTC does not have the power to regulate IoT devices. But it's definitely a problem on their radar, and it's possible that privacy policies enacted on corporations can help protect consumers who adopt the Internet of Things."
Hope and the article agree that Congress is likely to adopt stricter consumer privacy rules in the future as a result of these concerns. Ramirez, at the CES, called for better security protections on new products hitting the market, and asked companies to avoid storing unneeded consumer data.
"The fact that Capitol Hill is talking about the Internet of Things at all," says Hope, "shows just how deeply it is infiltrating the day-to-day lives of consumers. Within the next five years, that will expand exponentially, so this is an important time to have these conversations."
About Jason Hope
Jason Hope is an entrepreneur based out of Scottsdale, AZ. He uses his resources and wealth to support the development of new technology that will improve daily life for the local and national community. Learn more about his work at http://www.jasonhope.com.