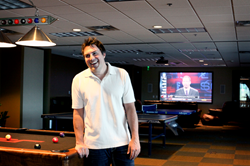 The Internet of Things has huge potential, but most consumers are not able yet to tap into that potential," said Hope. "With the Spark Internet Button, that potential becomes increasingly accessible
(PRWEB) January 29, 2015
The Spark Internet Button promises to change the way consumers interact with the Internet, and entrepreneur and futurist Jason Hope believes this one simple device has the potential to unlock everything the Internet of Things offers. In an article on VentureBeat.com, published on January 21, Barry Levine discusses the Spark Internet Button and how it can make the Internet of Things more accessible.
According to the article entitled "Here's a real button for the Internet of Things," Spark.io has created a button that is hooked up to IFTTT and is able to trigger an action simply by the push of the button. With these Spark Internet Buttons throughout the house, consumers can simply press a button and send a text, turn on the furnace or even start the coffee pot. These actions, called recipes on the IFTTT website, can be customized for the user's unique needs and desires.
"It's hard to fully visualize the potential of this tiny device," states Jason Hope. "Imagine a business man who is on the way out the door after a day of work. He can simply push the button and send a text automatically to his wife. Or, imagine a button by the front door that turns on lights and devices automatically when you return home from the store."
The article even mentioned setting up a button that will celebrate with a connected confetti shooter when a team scores. All the user has to do is touch a button in celebration, and a party begins.
What makes the Spark Internet Button so appealing to the average consumer is it's price and its ease of use. With a price tag of just $50, the button is accessible for most consumers. Also, it requires no programming to set up the recipes. Consumers simply log on to the IFTTT website and use the website's tools to create the recipes. Each button has four smaller buttons, so it can perform multiple functions.
"The Internet of Things has huge potential, but most consumers are not able yet to tap into that potential," said Hope. "With the Spark Internet Button, that potential becomes increasingly accessible."
The button is available for pre-order now, and will begin shipping in March.
About Jason Hope
Jason Hope is an entrepreneur who lives in Arizona. He uses his understanding of technology and his wealth to support technology and healthcare developments that will help improve the future for mankind. Learn more at http://www.jasonhope.com.