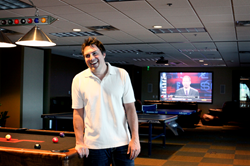 Instead of relying solely on paper records, doctors can have access to a patient's entire medical file, in a searchable digital format, in just a few minutes
(PRWEB) February 16, 2015
With the Internet of Things making its presence known in nearly every industry, experts are not surprised to see it impacting the world of healthcare, as reported by Technology Spectator. In a recent article, the online magazine touched on how big data and the Internet of Things are starting to change the world of healthcare. Jason Hope, who advocates for a better understanding of health and research into limiting the effects of aging, believes the article touches on some of the key ways the Internet of Things has the power to improve society as a whole.
In the article entitled "Internet of Things at the heart of healthcare," published on February 4, Charles Clarke discusses the implications of the Internet of Things and the data it collects on healthcare. Not only are consumers taking charge of their health through wearable technology and fitness trackers, but also healthcare personnel can access the world's health knowledge via connected devices when helping patients.
"With society becoming increasingly mobile," says Jason Hope, "the rise of connected devices will make it easier for medical professionals to care for their patients. Instead of relying solely on paper records, doctors can have access to a patient's entire medical file, in a searchable digital format, in just a few minutes."
Connected devices also help with the mapping of outbreaks of dangerous diseases, Clarke points out. For instance, the recent problems with Ebola in Africa were tracked via spatial mapping, allowing authorities to know when they should close the borders to countries that were at risk.
"The availability of data, frankly, makes staying healthy easier," says Jason Hope. "In this way, the Internet of Things may become the heart of healthcare in the future."
About Jason Hope
Jason Hope is an Arizona-based entrepreneur with a vested interest in watching the development of the Internet of Things, a change he feels will make life safer and more convenient for many people. He uses his resources to support a variety of research projects, including may in the healthcare industry. Learn more about his work at http://www.jasonhope.com.