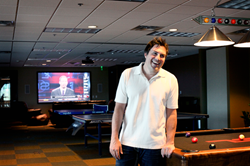 This shows great potential, particularly for areas, like rural areas, where Wi-Fi and Bluetooth access is sparse
(PRWEB) February 19, 2015
The rise of the Internet of Things requires a constant connection to the Internet of things, and white spaces in the radio spectrum may provide a solution for those times and places were Wi-Fi or Bluetooth connectivity fail. A recent article in Wired indicates that this technology may hit the market by the end of 2015. Jason Hope, Arizona-based entrepreneur and futurist, believes this may fill a need in the Internet of Things marketplace.
According to the February 13 article entitled "TV white space will connect the Internet of things," written by James Temperton, the Internet of Things may be able to tap into spare spectrum created from bands shared by digital TV and wireless microphones. This spectrum may be soon available for low-powered networks, which includes many Internet of Things devices. Through this white space spectrum, Internet of things devices may have another channel through which to communicate with each other and the Internet.
"This shows great potential, particularly for areas, like rural areas, where Wi-Fi and Bluetooth access is sparse," says Jason hope. "It also has the potential to help boost Wi-Fi signals in areas where crowds create a problem, like densely populated cities. While the technology is not quite there, it is an option that is well worth considering."
According to the article, this white space spectrum technology is currently being used by the London Zoo to provide live video streaming of the zoo's family of meerkats. Sensors along the Thames and Cherwell rivers near Oxford tap into white space spectrum technology to provide flood warnings. Some trials to use the technology to bring faster broadband connection to ships have also been in the works. By the end of 2015, tech experts expect to see the first commercial uses of this technology.
About Jason Hope
Jason Hope, an Arizona native, is a philanthropist and entrepreneur who uses his sizeable resources to support research into technology and healthcare in an attempt to make the future brighter for mankind. Visit http://www.jasonhope.com to learn more about his current research projects.