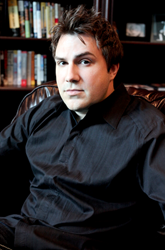 It's a difficult balance to reach, and one that has to be found if the Internet of Things is going to thrive without sacrificing the day-to-day security we should have the right to expect
(PRWEB) February 25, 2015
On February 11, the U.S. Senate Committee on Commerce, Science, and Transportation held a hearing to look at concerns surrounding the Internet of Things. The National Law Review reported on the hearing, entitled "The Connected World: Examining the Internet of Things." Jason Hope, Arizona entrepreneur and tech expert, believes that some of the issues presented at the hearing will help solve concerns surrounding the Internet of Things and potential security issues.
In the report entitled "Senate Holds Internet of Things Hearing," published on February 13, the National Law Review indicated that while security was a primary issue, the committee also talked about data breach legislation, development in the connected cars industry and wireless spectrum and spectrum allocation. The committee also talked about the FTC's role in regulating Internet of Things growth.
The main focus of the Senate hearing was on security and the innovation surrounding the Internet of Things. The committee looked at ways in which innovators could strike the right balance between protecting privacy and encouraging innovation as the Internet of Things continues to grow. Chairman John Thune, Republican from South Dakota, cautioned the committee to avoid making regulation that would halt innovation by taking on a "government knows best" attitude. Yet, the committee also warned against ignoring security risks as well.
"This was a crucial conversation," said Jason Hope. "It's a difficult balance to reach, and one that has to be found if the Internet of Things is going to thrive without sacrificing the day-to-day security we should have the right to expect."
One challenge the committee tried to address was the fact that what is customary and fair in regards to the Internet of Things is not always clear. "This is uncharted territory for lawmakers," says Hope. "It's important to have ongoing conversations about these topics."
The Senate Committee contained a mix of political parties as lawmakers attempted to find a non-partisan approach to deal with the Internet of Things.
About Jason Hope
Jason Hope resides in Arizona and spends his time and wealth researching ways in which the Internet of Things will improve the human condition and make life more convenient for people on a day-to-day basis. He also supports research into medical and anti-aging innovations. Learn more about his work at http://www.jasonhope.com.