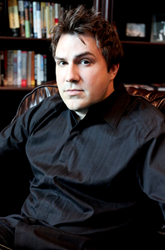 It has everything one would need to set up an Internet of Things application in just about any field
(PRWEB) March 06, 2015
ARM and IBM have unveiled their Internet of Things "starter kit" in a new partnership between two of the industry's leading firms. In a report on BBC, ARM and IBM claim the start kit can take just five minutes to send readings to online apps. Jason Hope, entrepreneur and futurist, finds this development an interesting part of the growth of the Internet of Things.
According to the February 23 article entitled "Internet of things starter kit unveiled by ARM and IBM," the two tech companies have come together to design a two-piece Internet of Things starter kit. The kit includes a pre-configured micro controller development board and a sensor expansion board. When fit together, the two units can be attached to the net with an ethernet cable. They can also be connected to computers and other devices via a USB link.
The kit is used to take readings and send those readings back to an app or device. It contains devices like a thermometer, accelerometer and a small joystick that allow it to analyze information from the surrounding environment. It also has some built-in memory and can be programmed to perform one task.
This setup allows the kit to read the environment and the state of physical objects it is attached to, then relay that information via the Internet. The article explains that the device can be used to send information about local conditions to a remote data center in order to send commands to lighting connected to the Internet of Things. The device could also be connected to "smart" mousetraps to alert a janitor to a trigger, so the cleaning crew can more efficiently check traps without having to check each individual one.
"What the starter kit does," says Jason Hope, "is give companies an all-in-one device that can do what they need the Internet of Things to do, without the need to create a custom device for each application. It has everything one would need to set up an Internet of Things application in just about any field."
As IBM's vice president, Rob Lamb, said, "Frankly, the use cases are bounded only by the human imagination."
About Jason Hope
Jason Hope is an Arizona resident who uses his wealth and influence to support research in anti-aging technology and the development of the Internet of Things. He also supports organizations and charities that help Arizona residents. Learn more about his most recent projects at http://www.jasonhope.com.